Amos Lay began as a surveyor and land agent. In 1796, he placed advertisements in several Vermont and New Hampshire newspapers as an agent for sale of land in Lower Canada (now Ontario). A few years later, he was involved in surveying land along the St. Lawrence River in Franklin and St. Lawrence counties.
Lays first map of Northern New York was published in 1801. A note on the map describes it as "compiled from the latest survey by A. Lay; and drawn by Arthur J. Stansbury." Based upon Stansbury's writings, Lay did a limited amount of surveying, and relied primarily on compiling information from other surveys.
Drawn at a scale of slightly more than seven miles to an inch, this map covers New York north of the Mohawk and Oswego Rivers. The details on this map are rather sparse and uneven. It shows fairly detailed hydrography for most areas, and major towns, but no topography. Its most notable feature is its delineation of the boundaries of recent land grants and purchases. Oddly, it is oriented toward magnetic north "as it was in 1760."
In 1812, Lay issued an expanded version of his map Map of the Northern Part of the State of New York.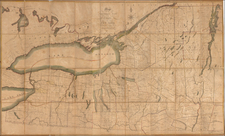 Place/Date:
New York / 1812
---
Archived