Smithsonian Magazine reports on our lost sketches of the Statue of Liberty which reveal an alternate plan for the structure
10 June 2020
---
The Statue of Liberty's golden torch held by an outstretched arm is one of the monument's defining features. Our discovery of a collection of old sketches from Gustave Eiffel's Paris workshop reveal a very different original engineering plan for the construction of the arm.
The issue of the statue's arm arose from conflicting ideas between Eiffel, the engineer on the project, and Frédércic Bartholdi, the designer. Eiffel's background in developing wrought iron trusses for railroad bridges gave him a firm grasp of the high stresses the statue would be subjected to with New York Harbor winds. As such, he designed an arm much wider than that seen today, evidenced by the sketches we discovered. In one of the plans, a second hand outlines a design the matches that which was built. We can only suspect this was Bartholdi. Historians place this as a debate between two proud men, one that Bartholdi would only win when Eiffel was distracted by other projects, including the Parisian tower which now bears his name.
This is an important new development in a debate which has been ongoing since at least 1916. That year, engineers suggested that the statue's arm be re-designed after it suffered damage during the Black Tom attack on a nearby railway line. Engineers wanted to rebuild the arm to what they suspected were Eiffel's original specifications, but they were overruled by the concerns of preservationists.
Read more about this in our interview with Smithsonian Magazine:
https://www.smithsonianmag.com/history/original-drawings-statue-liberty-discovered-180974618/
Other sources discuss this matter further:
https://archinect.com/news/article/150199513/lost-original-drawings-for-statue-of-liberty-discovered-by-map-dealer
https://www.thetimes.co.uk/article/why-eiffel-feared-statue-of-libertys-out-stretchedarm-of-welcome-would-be-her-downfall-qdp6rrz5x
Selected images from our collection of Eiffel sketches: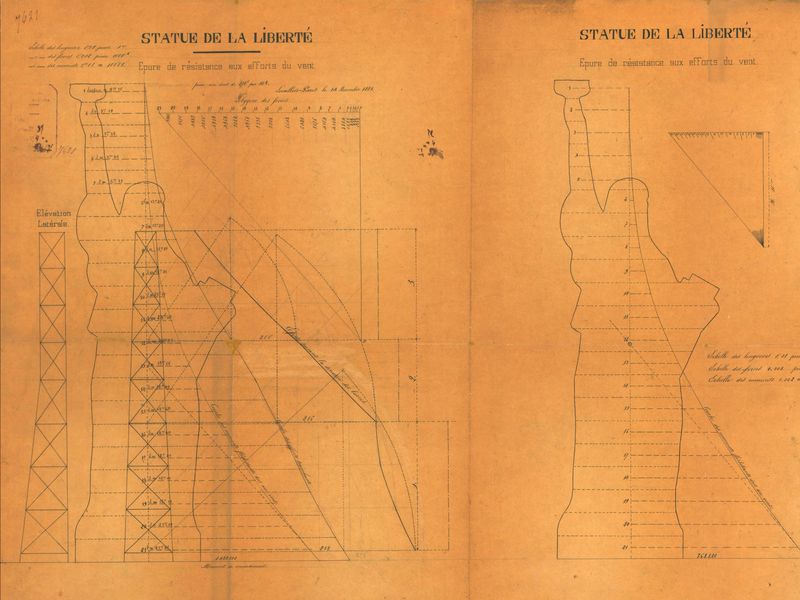 The alternate outline of the Statue of Liberty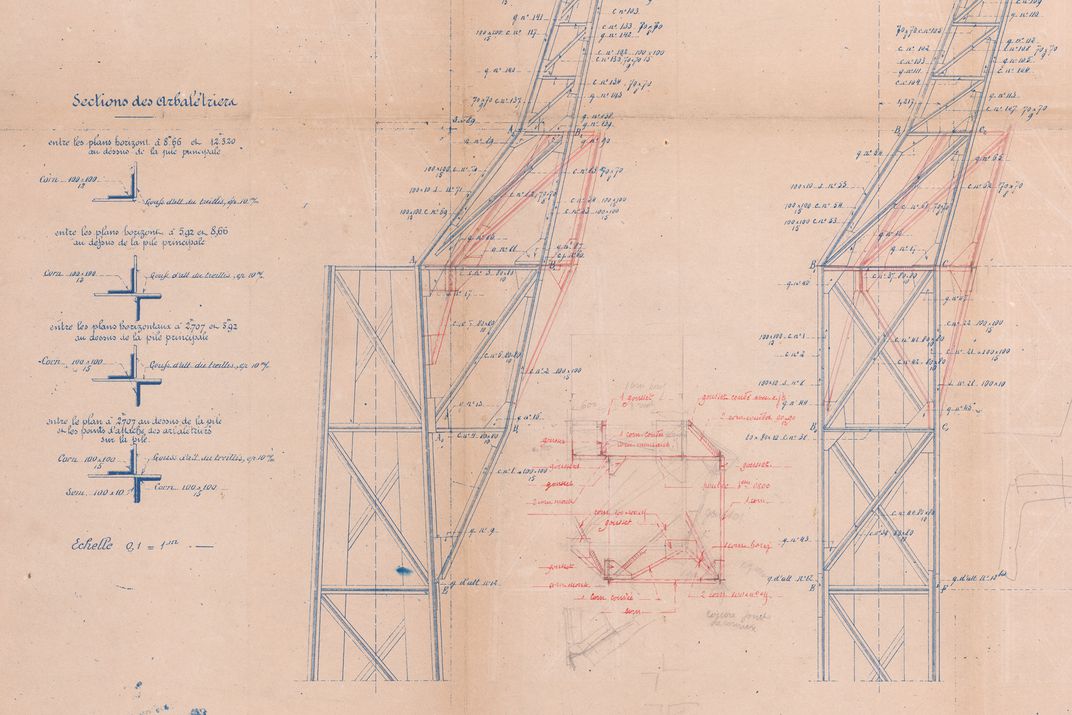 Eiffel's plans, gone over in red by a second hand
Florence's Uffizi Gallery acquires a rare panoramic view of the city from our collection
25 May 2020
---
Hieronymus Cock's panoramic view of Florence was the third known portrayal of the city in this manner, but the first to present it on such a detailed and expansive style. While this panorama was originally designed and etched in 1557, this dates to a 1601 reprint in Paris after Cock's death. In it, we can see the landmarks of Florence, including the Palazzo Vecchio and the Florence Cathedral, surrounded by city walls, agrarian fields, and the Tuscan hills. Our sale of this rare item to the Uffizi returns it to the city it portrays.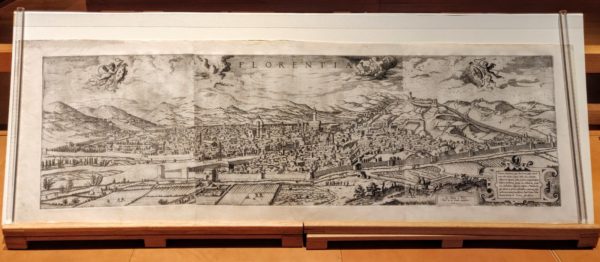 (Waldseemüller Forgery) Bavarian State Library and Wolfgang Jahn Publish Book-Length Report on the Forgery: Geschichte Einer Fälschung
16 October 2019
---
Wolfgang Jahn, in association with publisher Allitera and the Bavarian State Library, has completed and published his account of the Waldseemüller Globe Gore forgery at the Bavarian State Library and the one offered for sale by Christie's in 2017.
Though we have not read the complete text (available only in German), the book includes an English-language summary that elucidates some mysteries that remained after the initial discovery in late 2017.
Importantly, Jahn confirms several connections that we previously hypothesized but are now known to have occurred. Namely, we now know that Richard H. Zinser (1884-1984) the old master print dealer, was engaged by the Prince of Lichtenstein to sell the initial (genuine) Gores to James Ford Bell; that Zinser was closely connected with Arthur Bruno Drescher (relative of the consignor of the Christie's forgery); and that Zinser engaged Drescher to restore the Lichtenstein Gores before their sale to James Ford Bell in 1954.
Jahn presents a compelling circumstantial case that Zinser and Drescher were behind both the BSB and Christie's forgeries, going so far as to say "[The forgery's] motive was subtle revenge on Hans P. Kraus for Kraus' allegations against Arthur B. Drescher and Richard H. Zinser." But then in a seeming about-face, Jahn concludes "It remains unknown which people were involved in the forgery."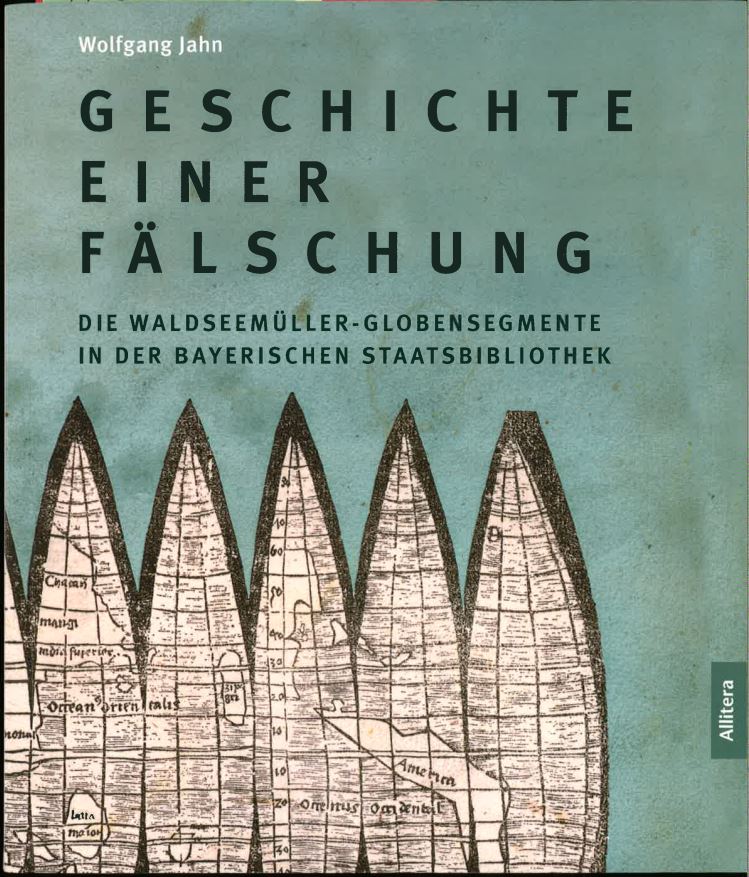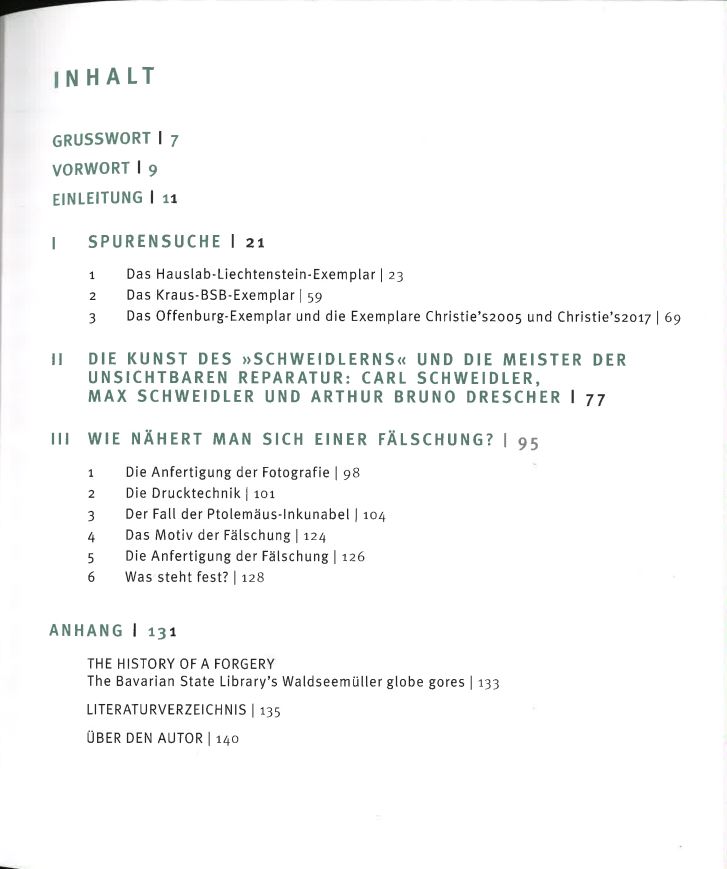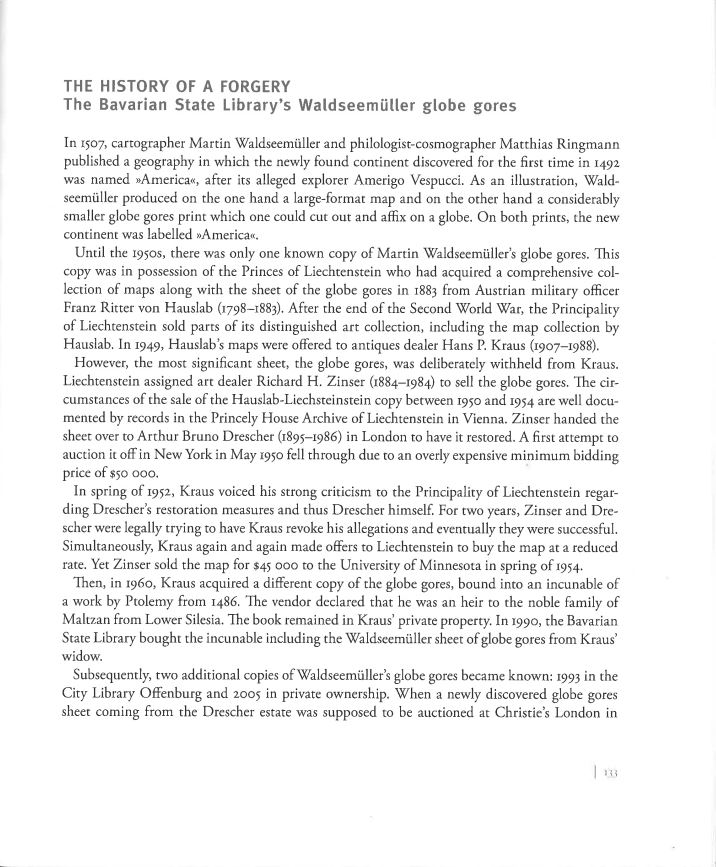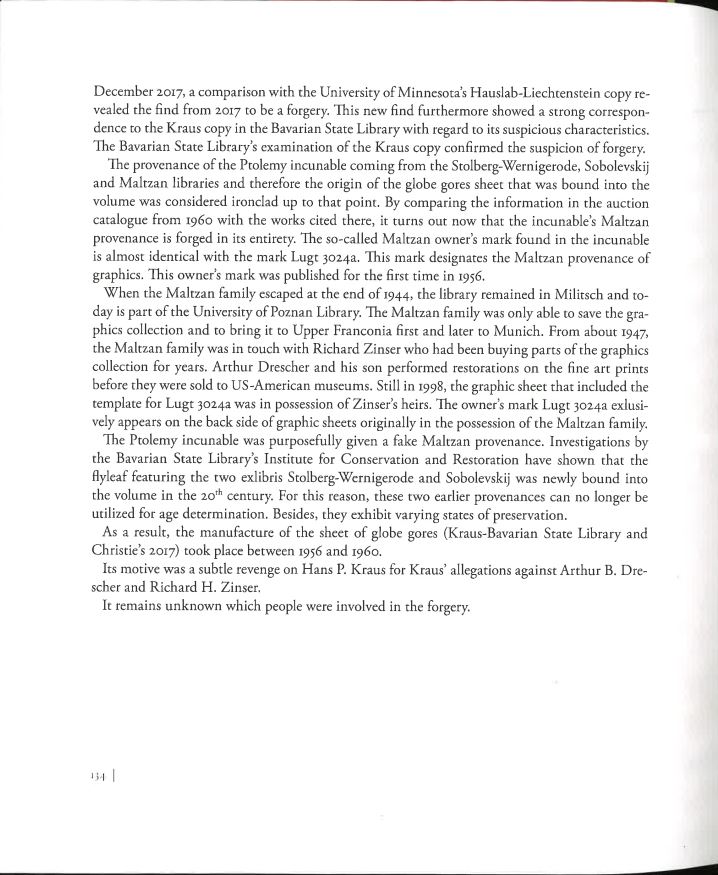 National Geographic highlights Stanford University's Urbano Monte map from the David Rumsey Center, originally purchased from our collection
20 December 2017
---
Urbano Monte's 1587 map of the world published on 60 sheets is the largest known early map of the world. His work is not only an example of a milestone in global cartography, but also a work which documents scientific observations and the geopolitical climate.
After our sale of this map to David Rumsey, he decided to donate the map to Stanford University. This allowed for all sixty sheets to be scanned and collated into one image which provides a beautiful picture of the European world view at the time. This map has even been projected onto a globe using Google Maps, allowing for investigation as to how it compares with modern maps.
Of the many striking aspects of this map is the creator's decision to use a north pole projection which was revolutionary at the time. This projection causes less distortion than the Mercator projection, allowing for a better understanding of the shapes of continents and oceans, and can be better understood now that the work has been digitally stitched together. This projection would not acheive prominence until the 20th century and the age of air travel. Of course, the projection results in distortion in the far southern hemisphere, which Monte fills in with large, elongated islands including Tierra del Fuego and "Brasilia."
The geopolitical and scientific statements of the map greatly add to its notability. The image of the king of Spain off the cost of South America and the distribution of various fleets around the world reflect early European colonization. In addition, notes on the length of days and global climates allowed its viewers to begin to visualize how life may be different in other regions and continents.
National Geographic and the Smithsonian Magazine provide further details on the work:
https://www.nationalgeographic.com/news/2017/12/cartography-gigantic-ancient-map-urbano-monte/
https://www.smithsonianmag.com/smart-news/explore-continents-islands-and-unicorns-largest-known-early-map-180967871/
The creatures in this atlas feature prominently in the New York Review of Books analysis of the role of monsters in the design of early maps:
https://www.nybooks.com/daily/2014/01/03/maps-monsters/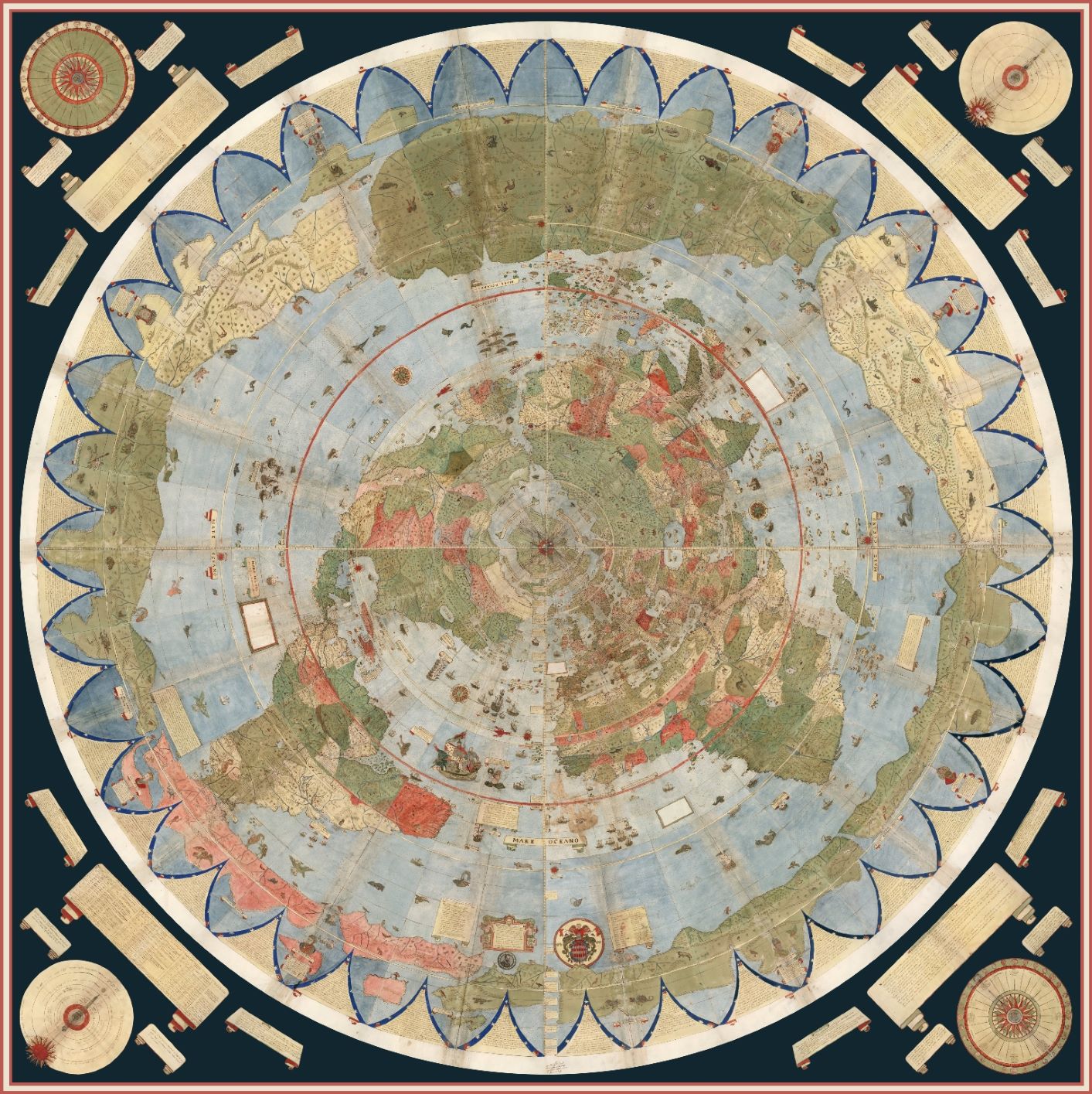 The Urbano Monte map with all 60 sheets digitally stitched together.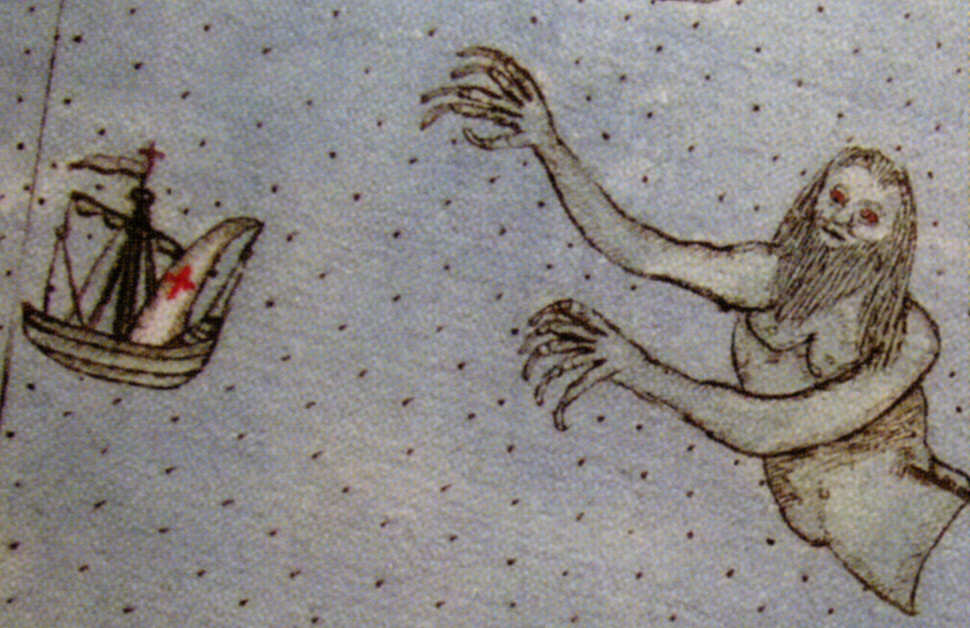 A monster from off the coast of Brasil ready to consume a European ship.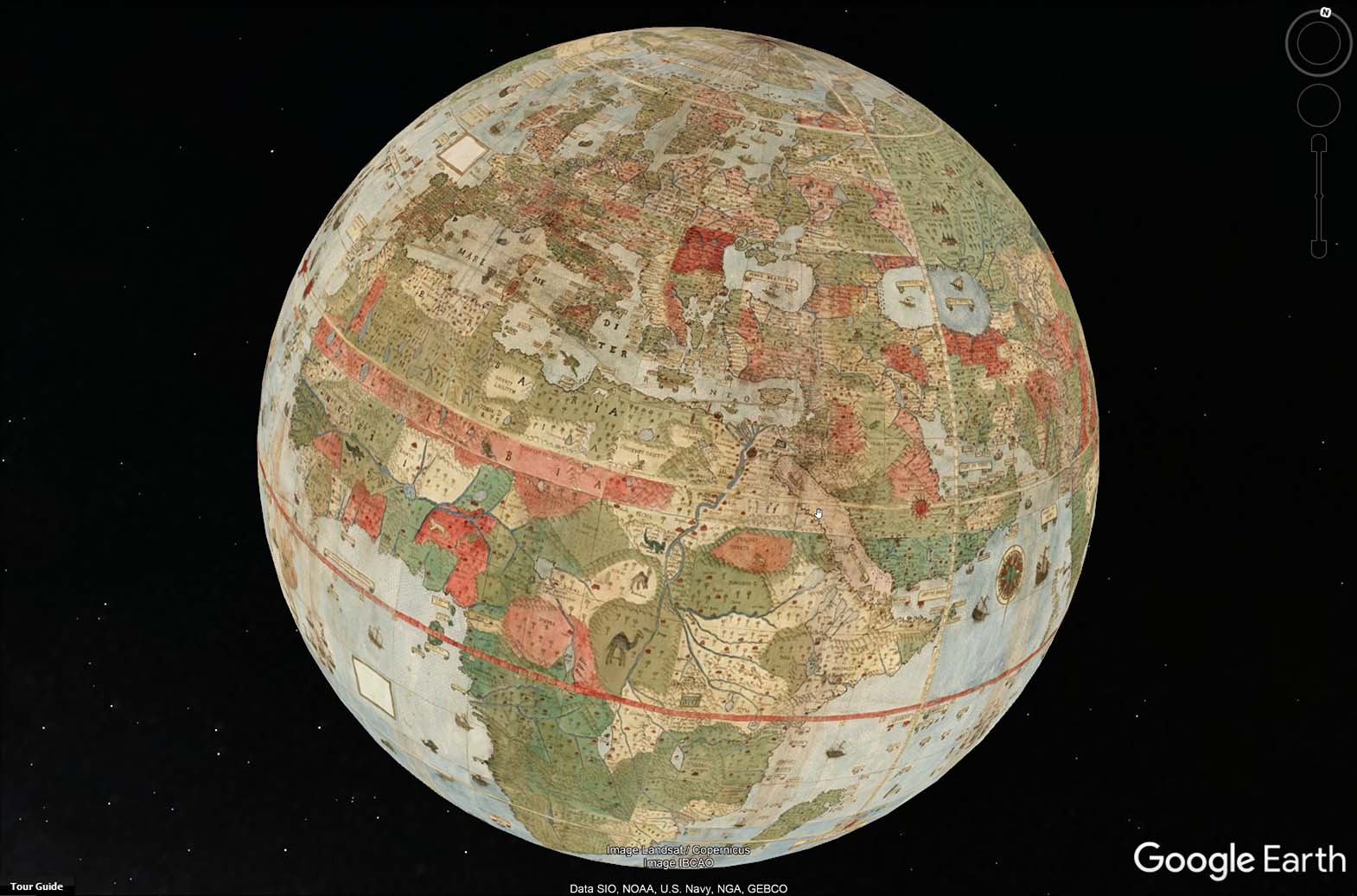 The Rumsey Collection projected the stitching onto a Google Earth. Visit their website to download an interactive version!