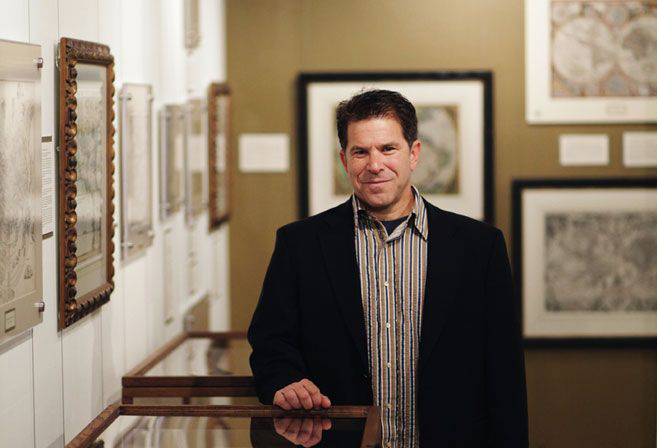 Located in La Jolla, California, Barry Lawrence Ruderman Antique Maps is a leading dealer of fine antique maps and atlases. We are perhaps most well-known for our extensive online antique map inventory, which is the largest and most diverse available online.
Barry Lawrence Ruderman Antique Maps was established in 1992. Our website was launched in 1996, making us one of the oldest and most active antique map sellers on the internet. As of 2023, we have sold and shipped over 85,000 antique maps and atlases to collectors and institutions in over 75 different countries.
We have earned a reputation for handling top-quality authentic antique maps and for helping to inform both experienced collectors and first-time map buyers. We pride ourselves in offering a wide variety of antique maps and atlases at fair prices and for helping collectors to start and craft their collections. Our gallery in downtown La Jolla provides a warm and comfortable environment for map collectors to gather, browse our current inventory, and discuss antique maps with our friendly staff.
Antique maps offer the collector a vast variety of opportunities for enjoyment. Antique maps stimulate intellectual curiosity, provide us with a contemporary view of the world as it was known in earlier times and are often objects of great beauty and artistic skill. We pride ourselves in helping our clients develop true connoisseurship for antique maps.
Professional Memberships
We are members of the International Map Collectors Society, the Antiquarian Booksellers' Association of America, the California Map Society, the Philip Lea Phillips Society of the Library of Congress, and the Washington Map Society. We sponsor the Miami International Map Fair and exhibit at other antique map and book fairs in the United States and Europe.
Institutional Relationships
We consider ourselves very fortunate to have developed longstanding relationships with important public institutions and private collectors alike. We count the following public collections among our clients:
Library of Congress
British Library
National Library of Australia
State Library of New South Wales
Stanford University
Yale University
Texas General Land Office
Boston Public Library
William Clements Library, University of Michigan
John Carter Brown Library
Osher Map Library, University of Southern Maine
Princeton University
The David Rumsey Collection
St. Louis Mercantile Library
Bancroft Library, University of California, Berkeley
University of Alaska, Fairbanks
University of Wyoming
The Barry Lawrence Ruderman Conference on Cartography at Stanford University
Every other October the David Rumsey Map Center hosts a three-day conference on cartographic scholarship called the Barry Lawrence Ruderman Conference on Cartography. Past keynote speakers have included Parag Khanna, author of Connectography and noted spatial thinker, and Alex Hidalgo, author of Trail of Footprints: A History of Indigenous Maps from Viceregal Mexico. Speakers from around the world discuss the latest in the history of cartography and related fields, and several advanced Stanford students also have a chance to share their exciting new research in how they use maps as part of their scholarship, teaching, and research.
Team
Barry Lawrence Ruderman, CEO and Owner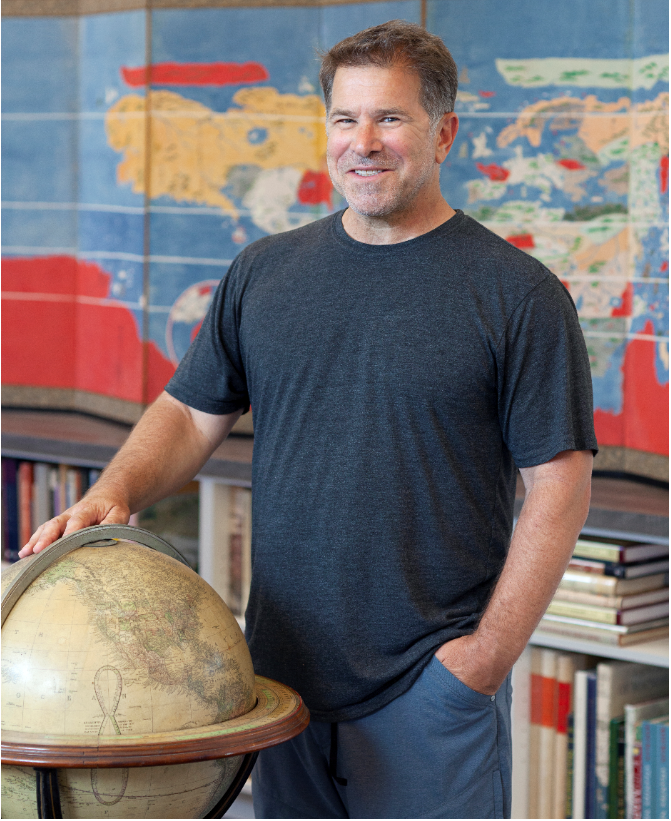 Barry is a native of Rialto, California.
Barry holds a BS in Economics from the University of California Riverside (1984) and Juris Doctorate from the University of San Diego School of Law (1987). Barry was a partner in the law firm of Weeks Rathbone Robertson & Johnson and later Rathbone & Ruderman until 2003.
Barry first began collecting maps as a lawyer and began selling antique maps as a hobby in 1992. In 1996, he created RareMaps.com, which would become the world's leading antique map and atlas website. Barry first opened a shop in La Jolla selling antique maps in 1999.
Barry is the sponsor of the Barry Lawrence Ruderman Conference on Cartography at Stanford University and a founding friend of the David Rumsey Map Library at Stanford University.
Barry is married and has 3 daughters and 3 stepsons, and is an avid skier and soccer fan.
Alex Clausen, President and Co-Owner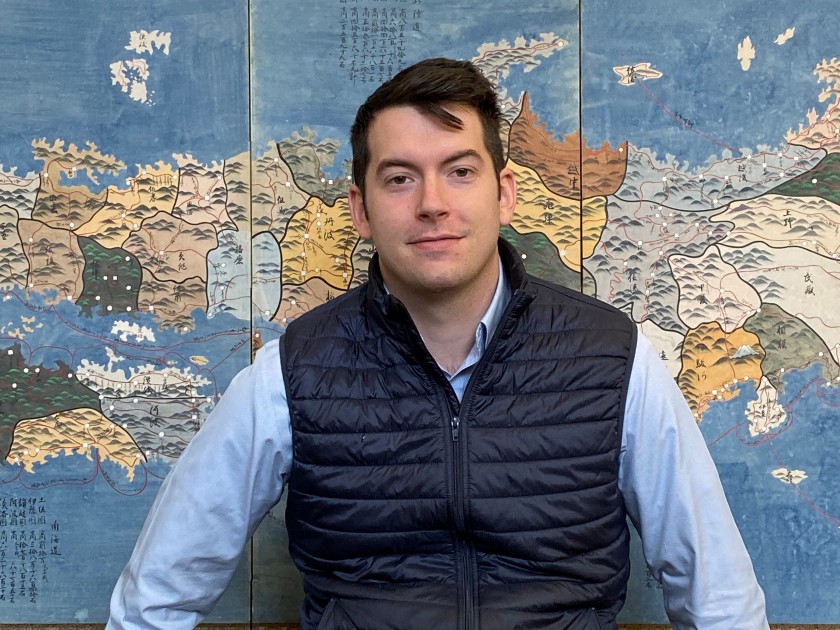 Alex is a native of Minneapolis, Minnesota, and has been with the company since early 2016.
Before joining Barry Ruderman Antique Maps, Alex worked as the head of the Maps, Atlases, and Plate Books Department at a New York City auction house, which he joined in October 2013. Previously, he had worked as Director for two New York City-based dealers.
Alex received his BA in Political Science from the University of Minnesota and studied International Political Economy in the General Course at the London School of Economics.
He lives in La Jolla with his wife, their four young children, and a menagerie of pets.
Cathy Garnica, Gallery Manager
Cathy joined Barry Lawrence Ruderman Antique Maps in 2009, following a career in finance, real estate, and retail management. With her came years of operational experience which she quickly adapted to ensure a unique experience for every client.
After years of listening to Barry talk about antique maps after they met in 2003, Cathy was finally lured away from the financial services world and joined as operations manager, bringing with her Jorge Chavez (our Digital Imaging Manager).
Today, Cathy ensures (or tries) that every map is in its place, oversees the day-to-day operations and every now and then, has the opportunity to meet the clients she so enjoys speaking with at shows and on the phone.
Denise Murphy, Business Manager
Denise has been involved in the business since 1992. In addition to her role as the company financial manager, she oversees descriptions and inventory control for American maps published in the second half of the 19th Century. She also has an obsession with maps by Alain Manesson Mallet and John Tallis.
Hamilton Allport, Director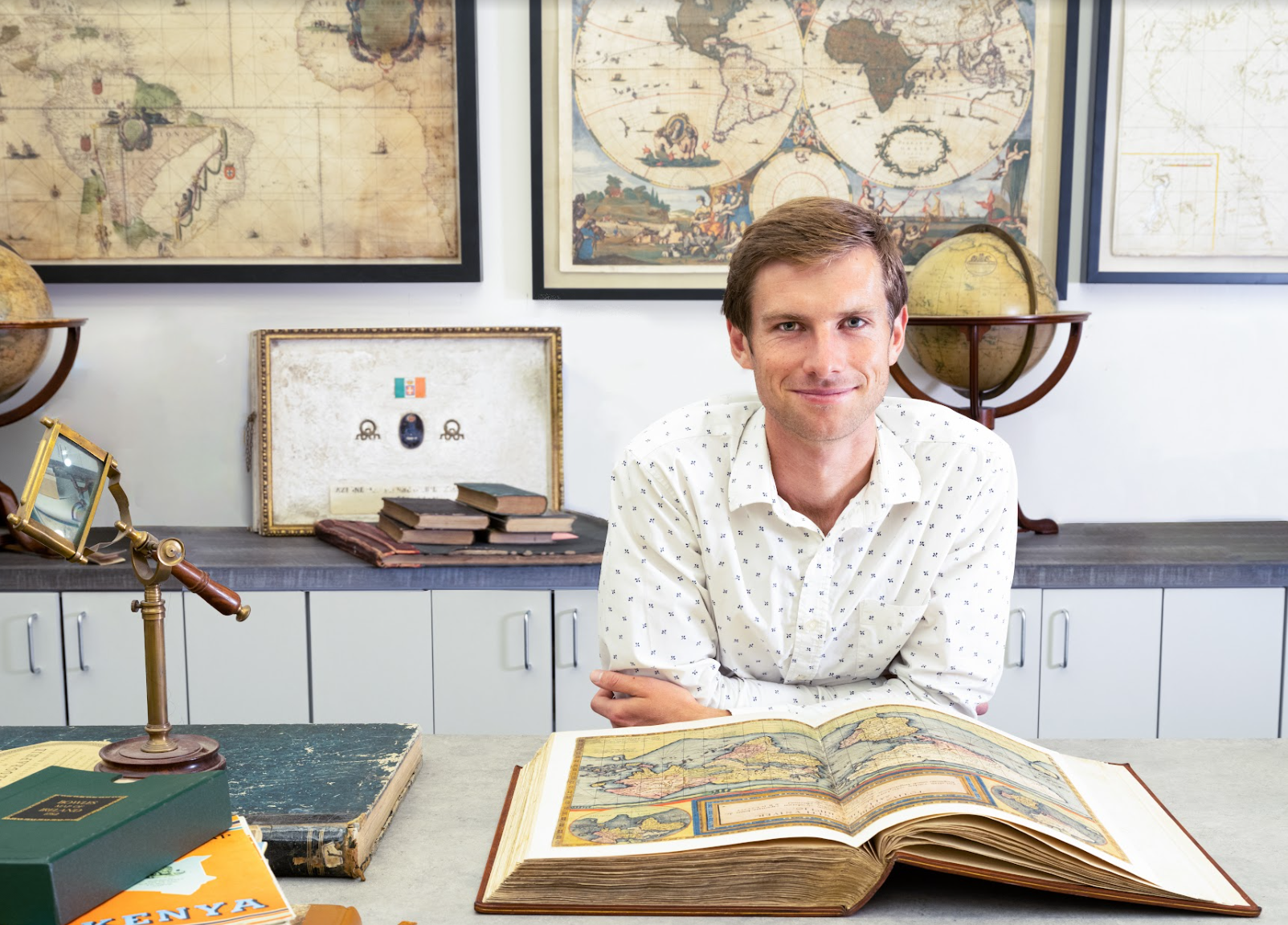 Hamilton studied Natural Sciences as an undergraduate at St. John's College, Cambridge, before graduating from there with a master's degree in Earth Sciences (geology). Upon finishing college in the summer of 2021, he returned to his native La Jolla to work for Barry and Alex, having previously worked part-time at the company while in college.
Outside of work, Hamilton's passions include surfing and running, two sports he has done for a large part of his life. He has also long enjoyed road trips throughout the western United States, which influences his personal collection of nineteenth-century works on geological exploration.
Talia, Orders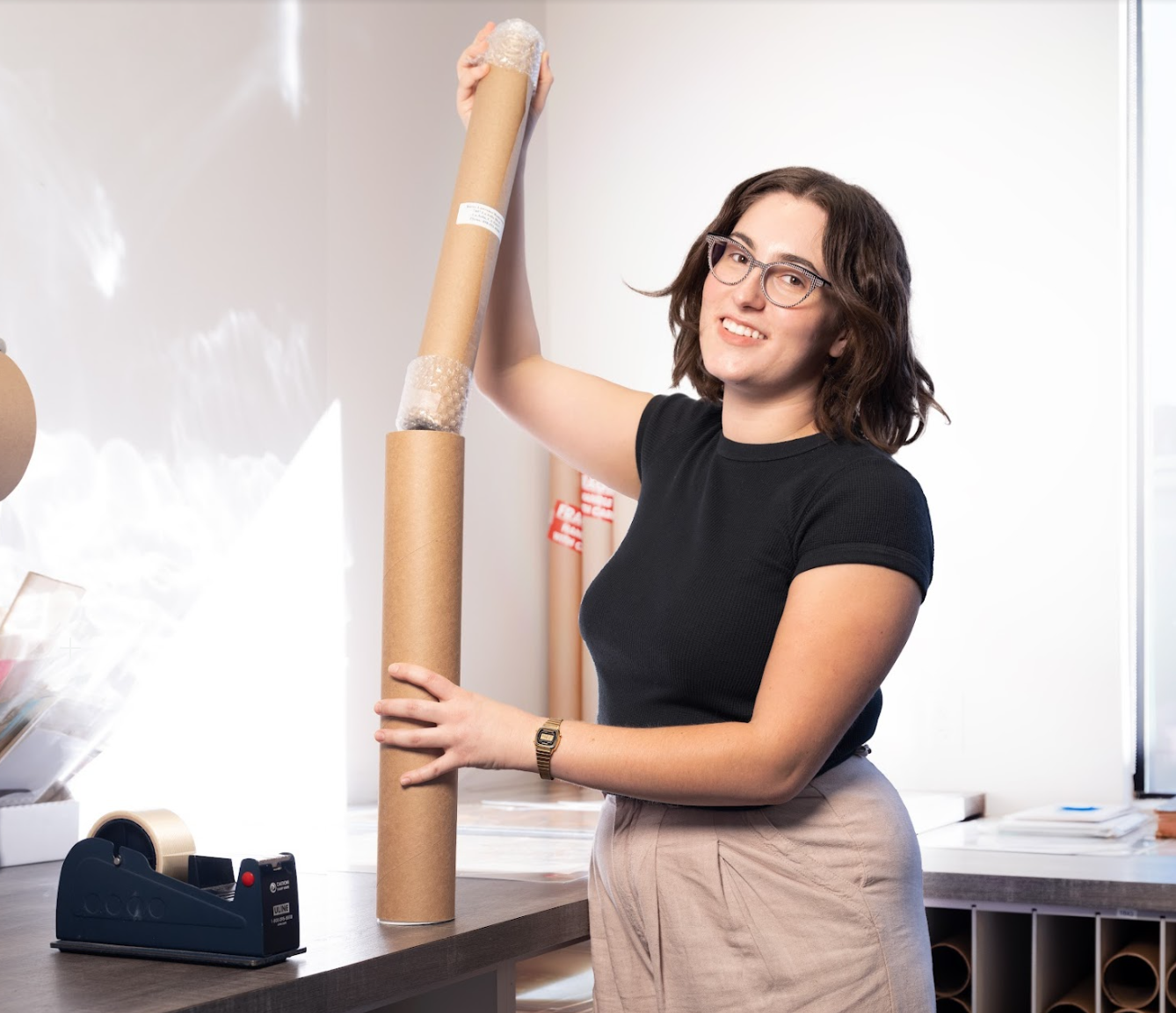 Talia joined BLRAM in 2022 shortly after moving to San Diego. Originally from Santa Cruz, she attended the University of California, Santa Barbara where she earned a BA in Writing & Literature as well as a minor in Professional Copyediting. When she's not fulfilling orders, corresponding with clients, or ordering snacks for the office, she can be found roller skating, dancing, or hanging out with her very talkative cat.
Joe Bray, Cataloger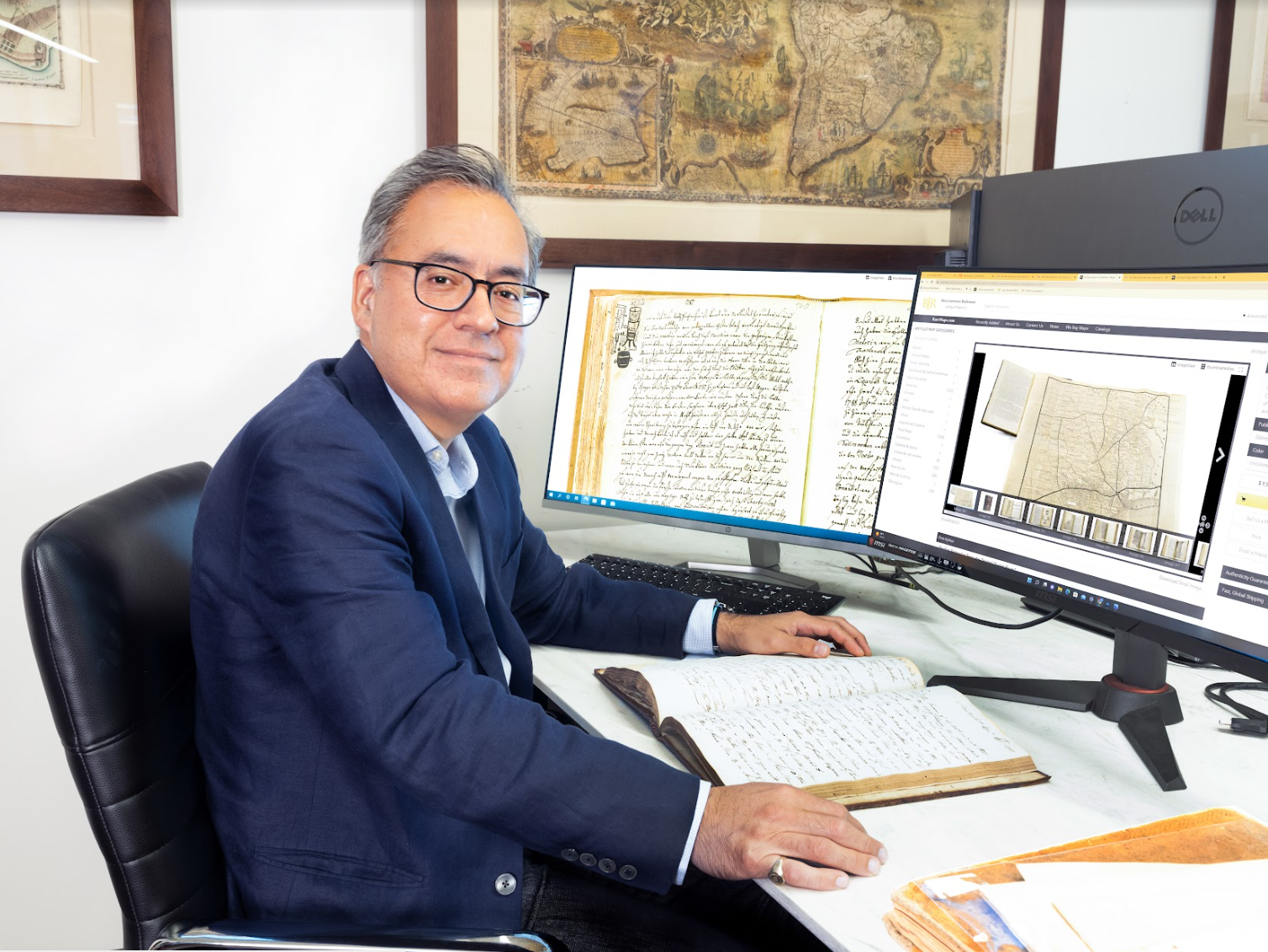 Joe Bray joined BLRAM in 2022 after many years as a rare book and manuscript specialist in the Special Collections department of the U.C. San Diego Library. In the 1990s he worked as an Americana cataloger for the rare book dealer William Reese Co. A San Diego native, he earned a BA in American History at Yale University where he was also a two-time winner of the Adrian Van Sinderen Prize for Book Collecting.
Tess, Photography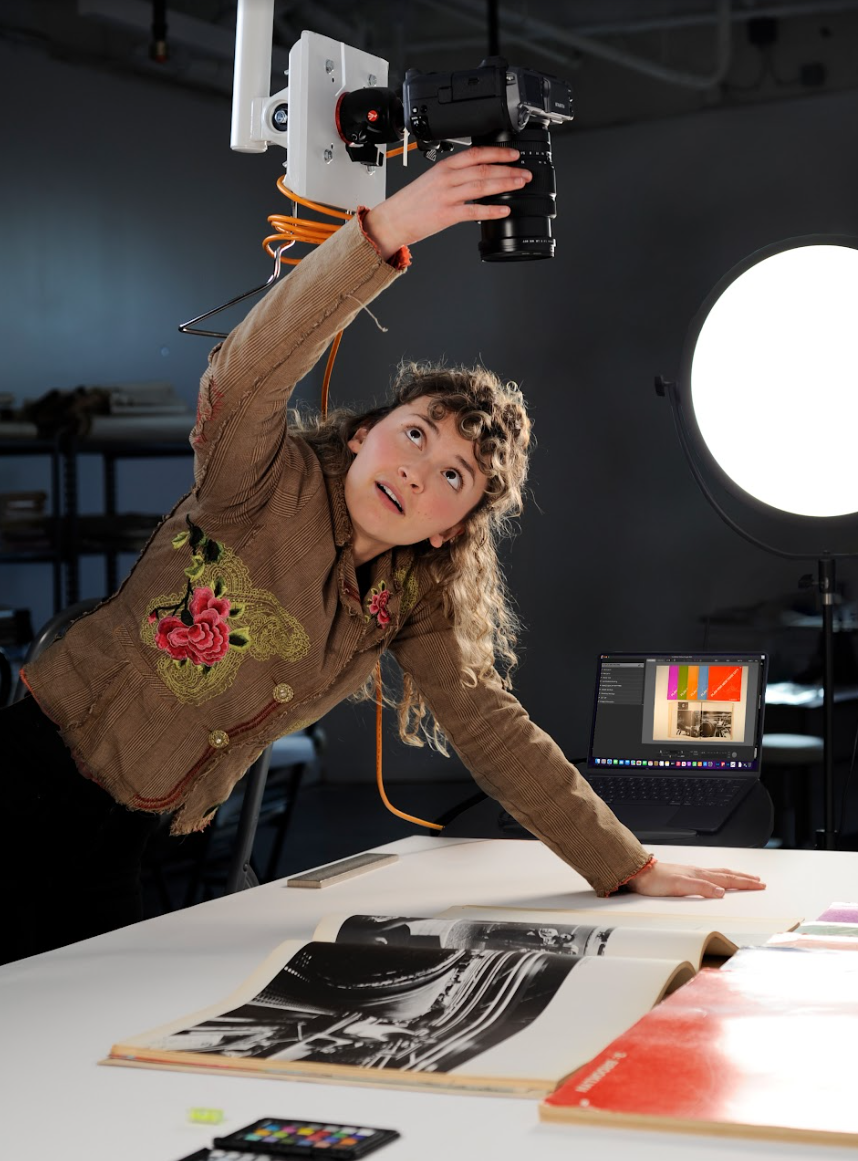 Tess
joined BLRAM in 2022 after completing two terms at the Smithsonian Institution for introductory studies into paper and photograph conservation. In her hometown of Mililani, Hawai'i, she worked as a practicing photographer, pet-portrait painter, and substitute teacher. At Utah State University,
Tess
received a BS in Art Studio with a focus on painting and alternative process photography along with minors in both Art History and Chemistry. She is happy to have a unique role that harnesses her multidisciplinary skillset!
Telephone: (858) 551-8500
Fascimile: (858) 551-0887
Gallery Address:
7407 La Jolla Boulevard
La Jolla, CA 92037
Gallery Hours:
Monday - Friday
By Appointment Only