J.K. Gill & Company was founded by Joseph K. Gill. Gill was born in Yorkshire, England, in 1841. In 1854, moved with his parents to Worcester, Massachusetts. He attended Wesleyan Academy, with the idea of preparing for college. While pursuing his studies, however, his eyes failed him, and he was forced for a time to abandon his plan.
At Wesleyan, boarded with the wife of Dr. W. H. Wilson, one of the earlier missionaries in Oregon. From her, and also from J. S. Smith and Joseph Holman, of Oregon, whom he met at her home, he was persuaded to come to Oregon by steamer in 1864. Gill settled in Salem, where he continued his studies at the Willamette University, and also acted as assistant teacher, under Prof. Gatch, then President of that institution. At the end of a year his eyes had become so much improved that he returned to Wesleyan Academy. His eyes, however, soon after again failed him, and he was advised by his physician that he must abandon the idea of completing a classical education. Having already become far advanced in the English and scientific courses, he thereupon graduated in these branches in June, 1866.
After graduating, Gill returned to Oregon, and took a position managing a book store at Salem. He later opened his own store, which was successful, leading to his move to Portland, where he partnered with George A. Steel, bought out the firm of Harris & Holman, and started a wholesale and retail book and stationery business. They remained together as Gill & Steel until 1878, when Mr. Steel retired and Mr. Gill assumed sole control.
In 1879 his brother, John Gill became a partner and the firm became J. K. Gill & Co. and thrived as one of the leading booksellers on the West Coast. At about the same time, the firm began publishing and selling maps, becoming the leading map publisher of the Northwest for the next 30 years.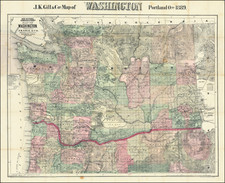 Place/Date:
Portland / 1889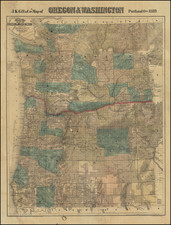 Place/Date:
Portland, OR / 1889
Place/Date:
Portland, OR / 1878
---
Archived