George Eldridge (1821 - 1900) and his son George Washington Eldridge (1845 - 1912) were among the leading sea chart and sailing guide pubiishers in America at in the late 19th and early 20th Centuries.
George Eldridge was Cape Cod fisherman known locally as an excellent ship's pilot. Eldridge published his first nautical chart in 1851. The chart was a commercial success and led Eldridge to a career in nautical publishing.
Eldridge published dozens of regional nautical charts of the American Atlantic coast. He would pass the business to his son, George Washington Eldridge, who continued to produce maritime charts into the 20th century.
From 1875, in addition to large format independently issued nautical charts, Eldridge also issued annual editions of Eldridge's Tide and Pilot Book and The Book of Harbor Charts. The Eldridge offices were located at several addresses on State Street, in Boston, Massachusetts.

Place/Date:
Boston / 1881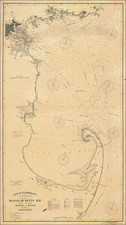 Place/Date:
Boston, Massachusetts / 1895
---
Archived