The item illustrated and described below is sold, but we have another example in stock. To view the example which is currently being offered for sale, click the "View Details" button below.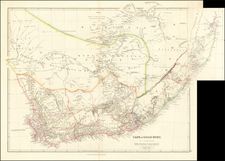 1840 John Arrowsmith
$ 345.00
Description
Early Appearances of Durban and Victoria.
Fine example of the 1836 state of Arrowsmith's map of the Cape of Good Hope, one of the earliest maps to show Durban ("D'Urban") and Victoria.
Lydiana appears, now a suburb of Pretoria.
One of the best maps of the region from the first half of the 19th Century.
Durban and Victoria
In 1822, Lieutenant James King, captain of the ship Salisbury, together with Lt. Francis George Farewell, were engaged in trade between the Cape and Delagoa Bay. On a return trip to the Cape in 1823, they were caught in a very bad storm and decided to risk the Bar and anchor in the Bay of Natal. The crossing went off well and they found safe anchor from the storm. In 1824 Lt. Farewell together with a trading company called J.R. Thompson & Co. decided to open trade relations with Shaka the Zulu King and establish a trading station at the Bay.
Henry Francis Fynn, another trader at Delagoa Bay was also involved in this venture. Fynn left Delagoa Bay and sailed for The Bay of Natal on the brig Julia while Farewell followed six weeks later on the Antelope. Between them they had 26 possible settlers, but only 18 stayed. On a visit to King Shaka, Henry Francis Fynn was able to befriend the King by helping him recover from a stab wound suffered as a result of an assassination attempt by one of his half-brothers. As a token of Shaka's gratitude, he granted Fynn a "25-mile strip of coast a hundred miles in depth." On August 7, 1824 they concluded negotiations with King Shaka for a cession of land, including the Bay of Natal and land extending ten miles south of the Bay, 25 miles north of the Bay and 100 miles inland. Of the original 18 would-be settlers, only 6 remained, and they can be regarded as the founding members of Port Natal as a British colony. These 6 were joined by Lt. James Saunders King and Nathaniel Isaacs in 1825.
The modern city of Durban thus dates from 1824 when the settlement was established on the northern shores of the bay near today's Farewell Square. During a meeting of 35 European residents in Fynn's territory on June 23 1835, it was decided to build a capital town and name it "d'Urban" after Sir Benjamin d'Urban, then governor of the Cape Colony. , The area around Durban was named Victoria County. Under the direction of Capt Allen Gardiner, a plan for the new settlement was drawn up and rudimentary defenses were erected in expectation of an attack from the Zulu.
Fierce conflict over the next decade with the Zulu population led to the evacuation of Durban, and eventually, the Afrikaners accepted British annexation in 1844 under military pressure.
John Arrowsmith Biography
The Arrowsmiths were a cartographic dynasty which operated from the late-eighteenth century to the mid-nineteenth. The family business was founded by Aaron Arrowsmith (1750-1823), who was renowned for carefully prepared and meticulously updated maps, globes, and charts. He created many maps that covered multiple sheets and which were massive in total size. His spare yet exacting style was recognized around the world and mapmakers from other countries, especially the young country of the United States, sought his maps and charts as exemplars for their own work.
Aaron Arrowsmith was born in County Durham in 1750. He came to London for work around 1770, where he found employment as a surveyor for the city's mapmakers. By 1790, he had set up his own shop which specialized in general charts. Arrowsmith had five premises in his career, most of which were located on or near Soho Square, a neighborhood the led him to rub shoulders with the likes of Joseph Banks, the naturalist, and Matthew Flinders, the hydrographer.
Through his business ties and employment at the Hydrographic Office, Arrowsmith made other important relationships with Alexander Dalrymple, the Hudson's Bay Company, and others entities. In 1810 he became Hydrographer to the Prince of Wales and, in 1820, Hydrographer to the King.
Aaron Arrowsmith died in 1823, whereby the business and title of Hydrographer to the King passed to his sons, Aaron and Samuel, and, later, his nephew, John. Aaron Jr. (1802-1854) was a founder member of the Royal Geographical Society (RGS) and left the family business in 1832; instead, he enrolled at Oxford to study to become a minister. Samuel (1805-1839) joined Aaron as a partner in the business and they traded together until Aaron left for the ministry. Samuel died at age 34 in 1839; his brother presided over his funeral. The remaining stock and copper plates were bought at auction by John Arrowsmith, their cousin.
John (1790-1873) operated his own independent business after his uncle, Aaron Arrowsmith Sr., died. After 1839, John moved into the Soho premises of his uncle and cousins. John enjoyed considerable recognition in the geography and exploration community. Like Aaron Jr., John was a founder member of the RGS and would serve as its unofficial cartographer for 43 years. Several geographical features in Australia and Canada are named after him. He carried the title Hydrographer to Queen Victoria. He died in 1873 and the majority of his stock was eventually bought by Edward Stanford, who co-founded Stanford's map shop, which is still open in Covent Garden, London today.