Charles Alexandre Lesueur was a French naturalist, artist, lithographer and explorer, whose productive career touched on three continents.
Lesueur was also a prolific natural history collector, who was responsible for describing numerous species, including the spiny softshell turtle (Apalone spinifera), smooth softshell turtle (A. mutica), and common map turtle (Graptemys geographica). Both Mount Lesueur and Lesueur National Park in Western Australia are named in his honor.
After a brief naval career (1797-1800), Lesueur joined Nicolas Baudin's expedition to Australia in 1801. During the course of the expedition, he took on the duties of both artist and naturalist, as a result of crew member attrition. In all, the expedition resulted in the collection of over 100,000 zoological specimens and Baudin created a vast number of highly important drawings, which later be published in the official account of Baudin's expedition.
A pioneer of lithography, Lesueur had already added lithography to his many talents before being invited to America by famed American geologist William Maclure. He made what many believe to be the first American lithograph of a natural history subject, a plate depicting two fish which accompanied some copies of the October 1821 issue of the Journal of the Academy of Natural Sciences of Philadelphia. Lesueur was so unhappy with the result that he substituted a copperplate engraving for the original lithograph; thus only a few copies of the Journal contained the now extremely rare lithograph. While residing in Philadelphia, he would go on to teach and experiment with a number of America's earliest lithographers. He become a member of the American Philosphical Society in 1817.
From 1826 to 1837, Lesuer lived in New Harmony, Indiana, while also taking trips to explore the American back country. He would encounter many important American and foreign travelers, including Karl Bodmer and Prince Maximilian.
Late in life, he returned to France to continue his career as an artist and naturalist, where he was awarded the honor of Chevalier de l'Ordre Royal de la Légion d'honneur for his long years of work in the sciences.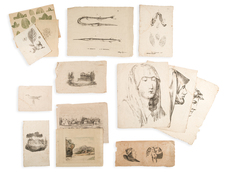 Place/Date:
n.p. (Philadelphia) / 1810 - 1830 circa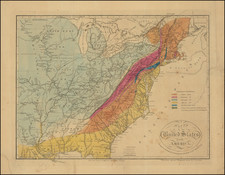 Place/Date:
Philadelphia / 1817