Charles Price (1679?-1733) was an engraver, instrument maker, and mapseller.
Price had been apprenticed to John Seller, famous mapmaker and father to Charles' business partner, Jeremiah. In fact, Jeremiah and Charles were made free of the Merchant Taylors Guild on the same day, September 1, 1703. The two were already working together by then.
After breaking off with Seller, Price worked with John Senex (1705-10) and George Wildey (1710-13). He was still working in the 1720s, but was in Fleet Prison in 1731 for debt and died two years later.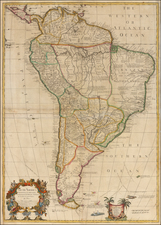 Place/Date:
London / 1713
---
Archived