John Rocque (circa 1704-1762), an 18th-century surveyor of Huguenot descent, left a profound imprint on the topographical representation of England, particularly through his elaborate maps of London and its surroundings. Despite his significant contributions, his life, both personally and professionally, remains somewhat cloaked in mystery.
Born likely around 1704 or 1705 to French Huguenot parents who migrated to Geneva following the revocation of the Edict of Nantes, Rocque found his calling in England. There, he and his siblings were known to have spent significant parts of their lives. His journey into surveying took off in 1734, with his first recognized work involving a survey of Richmond House and its gardens. This engagement emerged at a fortuitous time when the landscaping and design of the nobility's estates were witnessing renewed interest, which required accurate surveying—a skill Rocque exemplified.
Rocque didn't confine his talents to surveying alone but ventured into printselling, owning a shop near Hyde Park Corner by 1743. This enterprise reflected his energetic nature and the breadth of his ambition, contributing to his reputation for high-quality work, evidenced by the size of his workforce, which included up to ten draughtsmen and engravers at times.
In his later years, Rocque faced adversity, with his shop and entire stock in Whitehall being devastated by fire in 1750. However, his resilience saw him bounce back, and despite several relocations, Rocque maintained his business operations around the Strand area. By the 1750s, his work had taken him to Dublin, where he made substantial contributions in the form of numerous Irish maps and various English county maps.
On the personal front, Rocque married twice but had no known children from either marriage. His first wife was Marthe, whom he married by 1728, and following her death, he married Mary Anne Bew in 1751. Rocque's health began deteriorating towards the end of his life, leading to his death on January 27, 1762. His widow, Mary Anne, continued to manage the business for several years after his demise.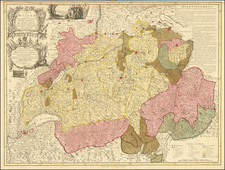 Place/Date:
London / 1760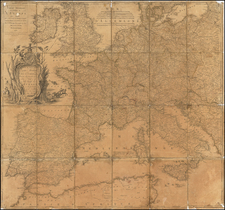 Place/Date:
London / 1771
---
Archived