Cornelis de Hooghe was an eccentric and an adventurer, who may have been an illegimate son of Charles V.
Born at The Hague about 1540, he lived 1565-69 at Antwerp and Brussels as a pupil of the well-known engraver Philippe Galle. In 1565 he engraved his map of Holland, dedicated to Prince William I. It has the East at the top and measures 38 by 52 cm. Neither publisher nor author is known.
In 1567 he engraved also a map of the Netherlands in Guicciardini's Descrittione di tutti i Paesi Bassi. For a long time he lived in England, where he engraved a map of Norfolk for the Saxton Atlas.
In 1582 he was at Leiden, but in the following year he was imprisoned as a Spanish spy and on 29 March decapitated and quartered.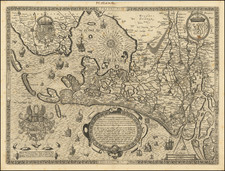 Place/Date:
Antwerp? / 1565