Robert Havell Jr. was the principal engraver of Audubon's Birds of America, perhaps the most significant natural history publication of all time.
Havell's aquatint engraving of all but the first ten plates of John James Audubon's Birds of America is now recognized as a significant artistic achievement in its own right and an essential component of the success of Birds of America. He and Audubon became close friends and associates during their lengthy collaboration.
In 1839, Havell went to America at the invitation of Audubon, first residing in Brooklyn. He settled in Ossining on the Hudson River and later moved to Tarrytown, New York, living there from 1857 through his remaining years. Although Havell continued to work in aquatint and engraving (primarily city panoramas), he devoted most of his attention to painting the countryside of the Hudson River valley. He travelled frequently in a homemade horse-drawn trailer, sketching and taking notes and translating his sketches into larger oils.
Robert Havell Jr. is considered a member of the Hudson River School of American painters.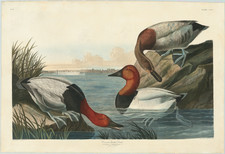 Place/Date:
London / 1836
Size:
39 x 26.5 inches whole sheet
---
Archived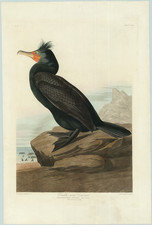 Place/Date:
London / 1835
Place/Date:
London / 1836
Size:
34.75 x 26.5 inches (sheet size)