John James Audubon (1785-1851), born Jean-Jacques Rabin in Haiti on April 26, 1785, was a Franco-American ornithologist, naturalist, and painter, celebrated for his detailed illustrations of North American birds in their natural habitats. His major work, a color-plate book titled The Birds of America, is considered one of the finest ornithological works ever produced.
Audubon's early years were shaped by tumultuous events. Born out of wedlock in the French Caribbean colony of Saint-Domingue (now Haiti) to a Creole mother and a French sea captain, he was smuggled to Nantes, France, during a slave rebellion. There, he was adopted by his father and stepmother and raised as their own. His childhood in France was filled with outdoor adventures and initial forays into drawing.
In 1803, to avoid conscription into Napoleon's army, he was sent to America, where he managed one of his father's estates near Philadelphia. This move further kindled his profound interest in the wildlife of the New World. Despite a few failed business ventures and challenges, Audubon remained committed to his passion for nature and art.
His dream to document all of the birds of America began to take form in the 1810s. Travelling through America's wilderness, Audubon observed, hunted, and painted birds. He developed a particular technique that involved wiring freshly killed birds into a natural pose on a board. This innovative method combined with his keen observation allowed him to create more lifelike illustrations than many of his contemporaries.
Failing to secure American subscribers or a publisher for his extensive collection, Audubon traveled to the United Kingdom in 1826. There, The Birds of America was met with critical acclaim. Between 1827 and 1838, this work was published in sections, comprising 435 hand-colored, life-sized prints made from engraved plates.
Audubon followed this success with a companion work, Ornithological Biography, which provided detailed narratives about each species. His later work included studies of American mammals, and he became one of the founding members of the New-York Historical Society.
Despite facing numerous challenges throughout his life, including financial hardships and criticism from some peers, Audubon's dedication to his work resulted in an invaluable contribution to ornithology and American art. He died on January 27, 1851, in New York City. Today, his legacy continues, notably through the National Audubon Society, which promotes conservation and appreciation of birds and their habitats.
Place/Date:
London / 1836
Size:
34.75 x 26.5 inches (sheet size)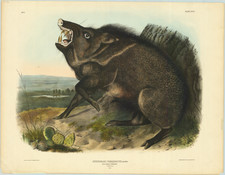 Place/Date:
Philadelphia / 1844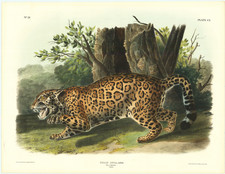 Place/Date:
Philadelphia / 1846
Place/Date:
New York / 1860
Size:
29 x 22 inches (including text)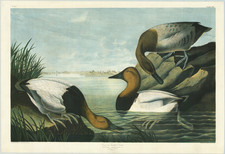 Place/Date:
New York / 1860
Size:
39 x 26.5 inches whole sheet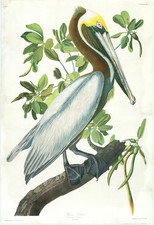 Place/Date:
New York / 1860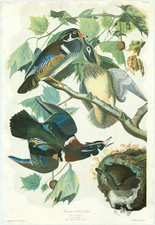 Place/Date:
New York / 1860
---
Archived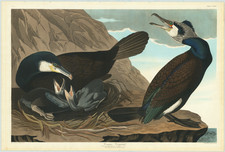 Place/Date:
London / 1835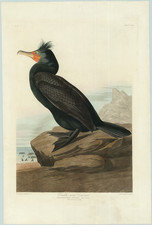 Place/Date:
London / 1835