John Messinger (1771-1846), was an early settler at Clinton Hill, Illinois (St. Clair County), two and a half miles north of Belleville, kept the first post office in the county outside of Cahokia. Messinger was an accomplished surveyor and surveyed a large portion of the land in this and adjoining counties. In 1783 he removed to Vermont and learned the carpenter's trade and also became a millwright. He came to Kentucky in 1799, and from there to New Design, where he lived a few years and then settled permanently at Clinton Hill.
Beginning in 1806, Messenger was one of the surveyors to survey a portion of the future state of Illinois into townships. He surveyed much of the public domain in both St. Clair and Randolph Counties. He wrote and published in 1821 a book entitled,A Manual or Hand-Book of Practical Surveying. Messenger first encountered John Mason Peck at Dr. Peck's Seminary at Rock Spring. In 1815, he was made a deputy under the Surveyor-General of Ohio, with authority to survey the military tract in the forks of the Mississippi and Illinois Rivers. Later he was appointed to assist in the survey of the northern limits of Illinois, and he made a part of the astronomical and mathematical calculations by which the line dividing the states of Illinois and Wisconsin was located.
Messenger and Philip Creamer made surveyors' compasses that were as well calculated and as well finished in workmanship as any made in the United States. Messenger was a member of the convention that met at Kaskaskia and framed the first constitution of Illinois. He was also a member of the first general assembly of Illinois, which convened in 1818, and on its organization was elected speaker of the House of Representatives.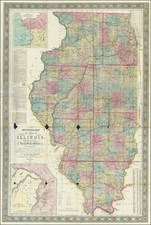 Place/Date:
New York / 1852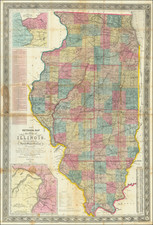 Place/Date:
New York / 1856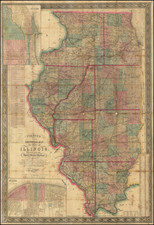 Place/Date:
New York / 1865
Size:
26.25 x 40.5 inches
---
Archived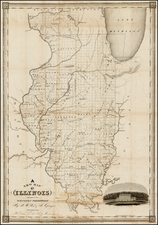 Place/Date:
Cincinnati / 1835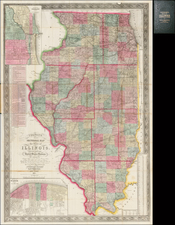 Place/Date:
New York / 1865