Honter was a German theologian and geographer.
Honter used a different method to project the earth's surface, albeit one also based on Ptolemaic principles.
His Rudimenta Cosmographica was published in 11 editions up to 1595. His world map also appeared in a number of other books, including a the history of Germany, France and Switzerland by the Swiss Reformation scholar Johannes Stumpf.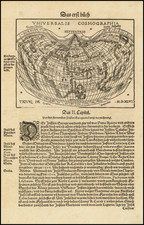 Place/Date:
Zurich / 1546
Size:
7 x 5 inches (map size)
---
Archived