Harry Hazel Culver was a real estate developer and promoter.
He was born in Milford, Nebraska, the middle child of five of Jacob H. and Ada L. (Davison) Culver, who lived on a farm. At age 18, he enlisted in the Spanish–American War and served as a corporal and sergeant.
After attending liberal arts college Doane College for a year, Culver studied business at the University of Nebraska for 3 years. From 1901 to about 1904, he worked in the Philippines in the mercantile business and as a reporter for the Manila Times and special customs agent.
He began working in real estate in Southern California in 1910 for Isaac Newton Van Nuys.
In 1913, in a speech at the California Club in Los Angeles, Culver announced his plans for what was to become Culver City. Local voters rejected the land's annexation to LA in 1914, whereupon Culver founded the Culver Investment Company. Supported by a 59-0 vote, Culver City became incorporated on September 20, 1917, with a population of 530.
Once the president of the California Association of Realtors, Culver served as president of the National Association of Realtors in 1923. The following year, he moved his offices to the second floor of Hotel Hunt, now named the Culver Hotel, the building of which he also supported. Culver served locally in elected office and promoted the city with picnics, leading tours with box lunches, and advertising "All Roads Lead to Culver City".
Culver served locally in elected office before his death in Hollywood, California.[citation needed] Advertising Culver City as "See this model little white city, scarcely a year and a half old." (LA Herald March 12, 1915). In 1927 he oversaw the issuing of the following opinion which makes it explicitly clear what he meant. "The Los Angeles Realty Board recommends that Realtors should not sell property to other than Caucasian in territories occupied by them. Deed and Covenant Restrictions probably are the only way that the matter can be controlled; and Realty Boards should be interested. This is the general opinion of all boards in the state."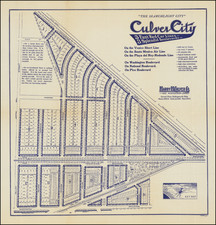 Place/Date:
Los Angeles / 1915