De Bruyn was an engraver who worked for a number of years for Christoph Plantijn in Antwerp.
He is ranked among the Little Masters, on account of his plates being usually very small. He engraved in the manner of Wierix, and worked entirely with the graver, in a neat and formal style, but his drawing is far from correct. It is believed that he worked also as a goldsmith.
De Bruyn was living in Breda in 1570 when Plantijn first retained him to do engraving work for two books. De Bruyn relocated to Cologne in the mid 1570s and did not return until about 1580.
---
Archived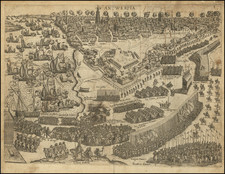 Place/Date:
Antwerp / 1582
Size:
15.25 x 11.5 inches