Don Clever was a San Francisco based designer and muralist, who moved to San Fransciso in 1936.
One of his most famous works was unofficially named Workers and Tractors, done for the Peterson Caterpillar Company in 1948.
Although he had no formal education or training after 8th Grade, he quickly found success as a muralist. His mural of Moses descending from Mount Sinai is displayed at San Francisco's Temple Sherith Israel.
As a designer, Clever sketched projects such as the gold and scarlet interior of Johnny Kan's in San Francisco. He also did the artwork for Storyland, a children's fairy park with murals and fairy creatures at Fleishacker Playfield near the San Francisco Zoo.
In later years, Clever did a number of projects for clients in Japan.
Mr. Clever's work won numerous awards here and abroad, including a Bronze Prize in the Tokyo International Lighting Design Competition, the Governor's Award for the Roaring '20s building in San Francisco and the State of California Awards for designing for the state fair.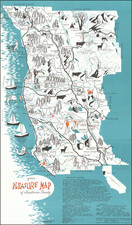 Place/Date:
Ukiah, California / 1960 circa
Size:
17.7 x 30.1 inches (sheet size)