Louis Marius Eugène Grandjean was a well-regarded painter and writer, born in Toulon in 1811. Son of Nicolas Grandjean, a senior naval administration officer, Louis Marius Eugène Grandjean studied first at Nîmes. In 1830 he went to Paris where he first studied law and then enrolled at the Faculty of Medicine. As a surgery student, he attended the workshops of the painters Bernard Sénéquier and the Marquis de Clinchamp in Toulon, honing his artistic skills.
Painting became Grandjean's primary occupation and, in 1834, he again left Toulon for Paris, where he entered the Drawing Academy headed by Boudin. After a brief return to Toulon in 1836, he left for Paris in April 1837 in the company of his friend Ch. Ginoux. In order to meet his needs, he produced natural history drawings for Charles-François Brisseau de Mirbel, director of the Museum of the Jardin des Plantes. He also completed some religious paintings.
Between March 1839 and January 1841, Grandjean worked in Toulon as an artist for the Bureaux des Dessinateurs des Travaux Hydrauliques. He returned yet again to Paris in January 1841, where he worked as a designer at the Ministère de la Marine.
After the death of his mother in 1843, he left for Italy in August with his friend Zoppi, visiting Rome, Naples, Florence, Pisa and Livorno. He came back to Paris in September 1845 and retired in 1856. With his inheritance, he lived in Paris and Toulon until his death in 1889.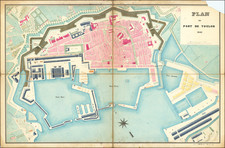 Place/Date:
Toulon / 1840