Hiob or Job Ludolf, also known as Job Leutholf, was a German orientalist, born at Erfurt. Edward Ullendorff rates Ludolf as having "the most illustrious name in Ethiopic scholarship".
After studying philology at the Erfurt academy and at Leiden, Ludolf travelled in order to increase his linguistic knowledge. While searching in Rome for some documents at the request of the Swedish Court (1649), he became friends with Abba Gorgoryos, a monk from the Ethiopian province of Amhara, and acquired from him an intimate knowledge of the Ethiopian language.
In 1652, he entered the service of the duke of Saxe-Gotha, in which he continued until 1678, when he retired to Frankfurt am Main. In 1683 he visited England to promote a cherished scheme for establishing trade with Ethiopia, but his efforts were unsuccessful, chiefly due to the resistance of the authorities of the Ethiopian Orthodox Church. Returning to Frankfurt in 1684, he devoted himself wholly to literary work, which he continued almost to his death. In 1690 he was appointed president of the Collegium Imperiale Historicum.
His correspondence with Leibniz on linguistics was published in 1755 by August Benedict Michaelis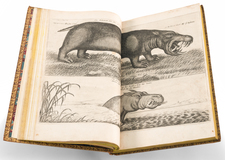 Place/Date:
London / 1682