A native of Virginia and the seventh of 14 children, before arriving in Olympia, Washington Morgan bounced around the West for several years. There is record of him in San Miguel, New Mexico Territory, and in Idaho Falls, Idaho Territory, where, in 1864, he was a partner in incorporating the Oneida Road, Bridge and Ferry Co. in Idaho Falls before being bought out in 1865.
Morgan first appears in the Olympia-based Washington Standard on March 4, 1871, describing himself as a "civil engineer and surveyor" and offering "drawings and specifications prepared for building Bridges, and work superintended in any part of the Territory." (p. 3) He met with at least some public approbation, as the July 29, 1871 issue mentions that "Mr. Morgan's map of Port Townsend is spoken of by the papers as a triumph of topographical skill" (p. 2); and on October 14 the paper announced he had won "first diploma" at the Mutual Aid Fair for a "Map of Thurston County and Olympia and Harbor" (p. 1), the former compiled at the behest of the County Commissioners. (May 24, 1873, p. 3) It seems that a significant part of Morgan's income came from contracts with the Territorial General Land Office in Olympia, the first of which he won in 1871 and the last in 1874. These entitled him to use the "Deputy Surveyor General" title that appears next to his name on this map.
Apparently, Edgar had trouble staying in one place. By some time in 1875, he was working as a civil engineer in San Francisco—which could explain the imprint of lithographers Britton & Rey that appears on his Puget Sound map. He won a contract to build water lines in Healdsburg in 1876 and that year also obtained a patent for a piece of hardware. After living in Santa Cruz for a few years, he returned to San Francisco, where he died of liver failure in 1880, leaving behind his wife and three children.
---
Archived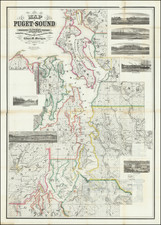 Place/Date:
Olympia, Washington Territory / 1875