Jacobus van Wijk was a boarding school keeper and Geographer.
He opened the Van Wijk Institute in the town of Hattem in May 1817, a boarding school which taught geography, history, physics, geometry and astronomy.
In his spare time, he pursued scholarship. Surrounded by books, maps, globes and instruments, he regularly picked up his pen there. Already in his early years he had written a lot. For example, the first volume of Handboek der Aardrijkskunde (1807), with second volume published in 1821 and and three part Nieuwe handleiding tot de aardrijkskunde (1818-1826).
It was this latter work that introduced him to retired navy officer Roelof Gabriël Bennet (1774-1829), who lived in Hattem. In 1822, the pair submitted a paper on the History of Dutch Explorations around the World in a competition organized by the Provincial Utrecht Society. After being given the opportunity to improve their treatise, they were awarded a gold medal for it in 1825 and offered membership of the society. The award-winning treatise of the two geographers was finally published in 1827, entitled Onder de titel Verhandeling over de Nederlandsche ontdekkingen in Amerika, Australië, de Indiën en de Poollanden, en de namen, welke weleer aan dezelve door Nederlanders zijn gegeven, werd uiteindelijk (Treatise on the Dutch Discoveries in America, Australia, the Indies and the Polar Countries, and the names formerly given to them by the Dutch).
In 1828, van Wijk and his son relocated to Kampen to run a school in that city.
---
Archived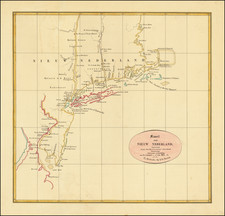 Place/Date:
Dordrecht / 1829 circa