Daniel Sturges is an important figure in early history of the state of Georgia.
Sturges was born in 1765 to the Reverend Daniel and Eleanor Sturges of Norborne Parrish, Virginia. The Sturges family migrated to South Carolina about 1789 and then to Georgia in 1790.
During the 1790s, the younger Daniel served as Deputy Surveyor General of the state and on January 26, 1797 was elected Surveyor General of Georgia. He served in this capacity for six terms until 1809 and was reelected by the Senate again in 1817, serving until his death in 1823 when his son Benjamin Hicks Sturges succeeded to complete his father's term.
Besides submitting the winning drawing for Georgia's Coat of Arms and Great Seal, Sturges also devoted twenty years to compiling the first detailed published map of the entire state.
Sturges administered the first four of Georgia's six land lotteries, in 1805, 1807, 1820, and 1821, so he had a significant influence on the development of the state's land policies. Sturges died at Columbia, South Carolina on September 17, 1823 (Cadle, 1991).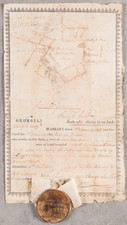 Place/Date:
Georgia / 1816 1st November
---
Archived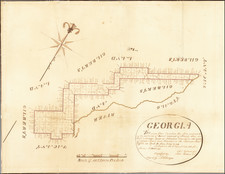 Place/Date:
Franklin County, Georgia / 1793
Size:
27 x 21 inches full sheet