John Coffee "Jack" Hays was a captain in the Texas Rangers and a military officer of the Republic of Texas. Hays served in several armed conflicts from 1836 to 1848, including against the Comanche people in Texas and during the Mexican–American War. With the Gold Rush, Hays relocated to California, becoming a successful real estate investor and rancher, before serving in the Civil War.
In 1836, Jack Hays migrated to the Republic of Texas. Sam Houston appointed him as a member of a company of Texas Rangers because he knew the Hays family from his Tennessee years. Jack met with Houston and delivered a letter of recommendation from then-President Andrew Jackson his great uncle.
Hays would go on to lead the Rangers on a campaign against the Comanche in Texas. Jack rode with an Apache Chief named Flacco who led the charge into every battle with him. In 1840 Tonkawa Chief Placido and 13 scouts joined with the Rangers to track down a large Comanche war party, culminating at the Battle of Plum Creek.
Later, Hays commanded a Ranger force against the invasion from Mexico of 1842. During the Mexican–American War (1846–1848), Hays commanded the First Regiment of Texas Rangers at the Battle of Monterrey and led forces along the Texas border. He then commanded the Second Regiment of Texas Rangers in Winfield Scott's Mexico City campaign.
In 1849, Hays was appointed by the United States government as the US Indian agent for the Gila River country in New Mexico and Arizona. The same year the Hays led a party of Forty Niners from New York that traveled in wagons to California from Texas. This party pioneered a shortcut on Cooke's Wagon Road that saved a long journey to the south. That improved route became known as the Tucson Cutoff.
Hays was elected sheriff of San Francisco County in 1850, and later became active in politics. In 1853, he was appointed US surveyor-general for California.
Hays was one of the earliest residents of the city of Oakland. In the following years, he amassed a considerable fortune through real estate and ranching enterprises. In 1860, while in Virginia City, Nevada, on business, he heard the news of the First Battle of Pyramid Lake. He commanded a force of volunteer soldiers at the Second Battle of Pyramid Lake.
In 1876, Hays was elected as a delegate to the Democratic Party national convention, which nominated Samuel J. Tilden for the presidency of the United States.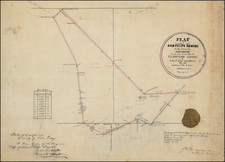 Size:
23.75 x 17 inches (sheet size)
---
Archived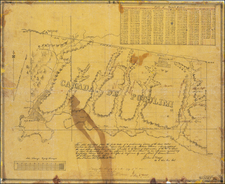 Place/Date:
San Francisco / 1854