Mingjie Liu (1857 - 1911) (刘明杰) was a Qing Dynasty Chinese folk artist and printer.
Liu was born in Hanting District, Weifang, Shandong, China. He is known for his paintings and folk characterizations, mubǎn nianhua (木版年画), made for Chinese New Year Festivals - a Shandong tradition - which he began producing at just 8. Politically, he was nationalist but anti-imperialist and anti-feudalist.
Liu created many paintings and prints satirizing the ruling elite - including the Dowager Empress Cixi - and deploring foreign incursions into China. Most of his work was eventually seized and destroyed as subversive. His cartographic corpus is limited, but he is known for three maps, among them his Full Modern and Ancient Map (古今地舆全圖), which was issued as early as 1892 and is China's first commercially produced map.
In 1911, Mingjie Liu traveled to the city of Yingkou, Liaoning province, in order to sell a painted fan. On the way he established himself in an abandoned temple. During a torrential rainstorm, the decrepit building collapsed, killing Liu.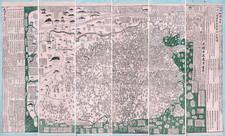 Place/Date:
Yangjiabu, Weifang, Shandong Province / 1892 (Guangxu 18)
Size:
72 x 47.5 inches (if joined)