Samuel Purchas (bap. 1577-1626) is one of the most famous geographers and editors in English history. His important Hakluytus Posthumus served as a source for subsequent geographers for over a century. Purchas was baptized in Thaxted, Essex in 1577, the sixth of ten children. He attended university at St. John's College, Cambridge and graduated with a BA in 1597 and an MA in 1600. Highly educated, Purchas dedicated his skills to serving as a clergyman in the Church of England. He was ordained as a deacon in 1598 and as a priest in 1601. After serving in several parishes, he became chaplain to Archbishop George Abbot in ca. 1613, the first of several London appointments. At King James's College, Chelsea, he wrote his only published sermon.
It was at King James's College that he also composed much of his master work, Hakluytus Posthumus, or, Purchas his Pilgrimes (1624–5). Purchas called upon his relationship with his famous predecessor in travel editing, Richard Hakluyt. In 1620, Purchas acquired the remaining manuscripts collected by Hakluyt and these form the basis for his own work. When it was published, it took three years to print and was the largest book ever published in England. Purchas not only edited and compiled the travel accounts covering Europe, Asia, Africa, and the Americas, but he added anti-Catholic commentary of his own. He died in 1626, shortly after the volumes appeared.
Purchas is important not only as a source for geographers, but for the maps included in his travel collection. The first edition contained nearly ninety maps, some of which were completed by Jodocus Hondius. Not all the maps were original, but there are nevertheless several highly influential maps. For example, the famous John Smith Map of Virginia featured in Purchas' work. Purchas also included the Henry Briggs Map of North America, the first map in English to show California as an island, as well as the first map to name Hudson's Bay and the Hudson River. Additionally, there is the William Alexander Map of the Northeast, which pioneered many new place names; Roe's map of North India, the earliest English map of Mogul lands; and Saris' map of China, which shows Korea as a peninsula.
Place/Date:
London / 1625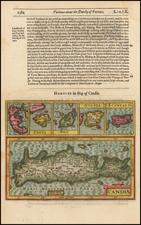 Place/Date:
London / 1625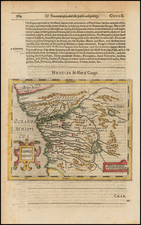 Place/Date:
London / 1625
Place/Date:
London / 1625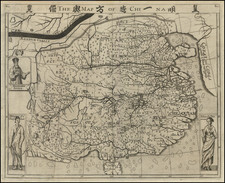 Place/Date:
London / 1625
---
Archived