Mimpriss was a Sunday school worker, was born at Deptford, Kent, on 14 January 1797, into a devout home of Welsh origin.
After education at a Blackheath boarding-school, Robert, at the age of sixteen, went to sea as purser on a foreign merchantman. But after the first voyage he abandoned the occupation, and after a brief trial of a clerkship in a London merchant's office, and subsequently of a desultory study of art, he married a woman with private money in 1821. Her wealth made possible his lifelong work for Sunday schools, which he began at this time, after a gradual conversion to evangelical Christianity.
Shocked by the ignorance of scriptural knowledge he witnessed among children of all classes, he devised what was known as the 'Mimpriss system of graduated simultaneous instruction', based on Edward Greswell's Harmony of the Gospels (1830). He moulded the gospel history into a continuous narrative, and divided it into one hundred lessons. The course was illustrated by pictorial maps, charts, and tables, in the preparation of which he was assisted by John Wilson, author of several millenarian works.
From 1830 to 1850 Mimpriss was chiefly engaged in writing books in connection with his system, but he repeatedly travelled round the country setting forth its merits or advocating millenarian and teetotal principles. He was also a supporter of sabbatarianism, an active member of the Society for the Prevention of Cruelty to Animals, and a promoter of the education of deaf mute people.
In 1860 his wife suffered a stroke, and Mimpriss incurred increasingly heavy losses from his publishing efforts, which his biographer partly attributed to the hostility of the organized societies, the Sunday School Union and the Church of England Sunday School Institute, towards Mimpriss's disinterested private enterprise. There was also a suggestion that he was too much of a perfectionist and perhaps too headstrong to make his ventures a commercial success. Impulsive and generous, he had a simple and unconventional manner, and made many friends among the Quakers, though he was himself an Anglican.
His works, apart from elementary manuals for the use of schools, were:
A Pictorial, Geographical, Chronological, and Historical Chart, delineating the Rise and Progress of the Evangelical or Christian Dispensation to the Ascension of our Lord, London, 1832 (with a key,8vo).
A Harmony of the Four Gospels in the English Authorised Version, arranged according to Greswell's Harmonia Evangelica, in Greek … intended principally as an accompaniment to No. 1, London, 1833, 8vo.
Gospel Recreations for Sabbath Evenings, London, 1836, 8vo (with a set of card-pictures); 2nd edit. 1839, revised and much enlarged, under the title of Conversations for Sabbath Evenings on our Lord's Life and Ministry.'
The Acts of the Apostles and Epistles historically and geographically delineated according to Greswell's arrangement, Lond. 1837, 8vo (with a chart).
The Treasury Harmony of the Four Evangelists, in the words of the Authorised Version, according to Greswell's "Harmonia Evangelica," &c., 2vols. London, 1849-51, 12mo; republished as the 'Gospel Treasury,' new edit., London, 1884, 4to.
A Full Development of Mimpriss's System of Graduated Simultaneous Instruction, London [1855], 8vo.
The Mimpriss System. The Amalgamated Manual for Superintendents, London [1855], 8vo.
Early Career as an Artist/Engraver
Before publishing his evangelical works, Mimpriss did have a career as an artist. Mimpriss is recorded as a drawing master of New Road, Southampton in 1827 and 1828. Describing himself as a student of the Royal Academy, Mimpriss offered his services both to private pupils and to schools. Advertisements were headed "To the Admirers of Juvenile Talent, Parents, and those superintending the Education of Youth". He gave classes in Southampton, Winchester (which he attended every week) and Lymington. Exhibitions of his pupils' work were held at Henry Buchan's County of Hants Picture Gallery in the High Street, Southampton and at the premises of Charles Coles, carver and gilder, in the Square, Winchester . He was a subscriber to Buchan's gallery when it first opened on 25 July 1827.
Mimpriss created A view of Southampton, from the water, drawn on stone by Mimpress and printed by the Soho firm of Engelmann, Graf, Coindet and Co, which was published by Henry Buchan in 1827. A selection of his drawings were later lithographed by Louis Hague and published in Southampton by Fletcher and Sons, booksellers, stationers and printers of the High Street.
An advertisement in the Hampshire Advertiser, 11 January 1834 offered for sale "16 picturesque views in Southampton and its vicinity, drawn on stone by L Haghe, from sketches by R Mimpriss": 8 shillings the set or 12 shillings on India paper. A selection of twelve engravings - drawn from nature by R Mimpriss, published by I Fletcher and headed Southampton scenery - is in Hampshire Archives and Local Studies (15M84/Z3/86). Hampshire Archives also has two engravings of Netley Abbey, drawn from nature and on stone by R Mimpriss, published by J Fletcher and printed by Engelmann & Co, London (TOP 230/2/119(L) and TOP 230/2/126(L)).
---
Archived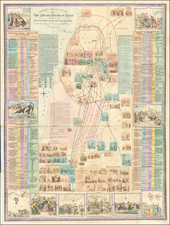 Place/Date:
Cincinnati, Ohio / 1873