Parick "P." Whitty was Houston's longest-tenured City Surveyor during the 19th century. His biography is well-summarized in the following excerpt from the Archaeological & Historical Commission of the City of Houston:
The Whitty clan had initially put down its Houston roots a mere six years after the end of the Civil War when Edmond's father, young civil engineer Patrick Whitty, migrated to Houston from the Canadian province of Newfoundland. By 1872, he had moved his small family to a home in the Brunner section of Houston and established the Texas and Houston Land Company. 13 Mr. Whitty was the first Civil Engineer employed by the City of Houston, beginning his municipal employment in the administration of Mayor I.C. Lord in 1875 where he served in that capacity for nine years. He maintained a private practice as well, advertising in the City Directories of Houston for a number of years.
"Patrick Whitty: Civil Engineer and Surveyor. Land Boundary questions a speciality. On hand and for sale: Maps of all counties in Texas. Also maps of the City of Houston and all city additions. Maps made by blue print process, photo-litho process or lithograph process. Correspondence solicited. Office: 117 1/2 Main, Corner Franklin Avenue. Houston, Texas."
Patrick Whitty was instrumental in placing and mapping many of Houston's streets, parks, and neighborhoods. His involvement in the burgeoning city is evident. He laid out the lots for the Brunner Addition, the Magnolia Addition, Riverside Park, Kingwood, and Clear Lake areas held by Humble Oil and Refining. In fact on today's city maps, Whitty Street parallels Jensen Drive and the Eastex Freeway. Since the third decade of the nineteenth century, it has been common practice to name city streets for those individuals who were important to either the entire city or those particular areas. Such is the case with Nagle Street, Tierweister, Reinerman, Baldwin, and Andrews Streets, all named for engineers, city councilmen, or developers. Houston, Harris County, and Texas maps and plats of the period abound with the notation "P. Whitty."
---
Archived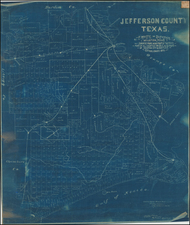 Place/Date:
Houston / 1901 circa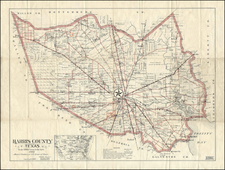 Place/Date:
Houston / 1902
Size:
23.25 x 17.25 inches