Honda Toshiaki was a Japanese intellectual active in Edo, now Tokyo. He was open to Western ideas and suggested that his country should be more open to European trade. His research focused on Western customs and practices and how they could be used to the advantage of Japan.
Toshiaki was originally trained as a mathematician and he was talented--he had his own school at the young age of 24. He learned Dutch in order to understand Western mathematics, which sparked his interest in European culture more generally. From math, he also began to study economics and politics.
As part of his advocacy to the government, Toshiaki made several maps as illustrations for his reports. His ideas included imperial expansion to the north and using gunpowder to create new shipping pathways within Japan.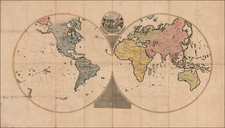 Place/Date:
[np, but Japan] / 1804 circa 1818