Frank E. Brown was born in Chicago, IL in 1880. Brown dropped out of school when a young boy and went to work in a design company.
Brown's panoramic views began to receive recognition in the late 1890s. On his second return from Europe in 1909 he opted to specialize in "bird's eyes." He came to Pasadena in 1915 and worked for a few years as a staff artist for the Star News. Working from a studio-home in Pasadena at 1377 Palm Terrace, he was in demand for his bird's eye views.
In 1927 he was commissioned to do a panoramic view of the Pasadena City Hall and was active locally until 1935. He died in Los Angeles on Dec. 18, 1946.

---
Archived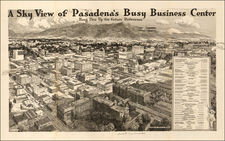 Place/Date:
Pasadena / 1921