László Vörös (1790–1860) was born in Hódmezo˝vásárhely, Hungary. Due to the large family's financial difficulties he worked as his father's helper as a carpenter.
Because of his poverty, he did not enroll in college until 24. Vörös was part of a new generation of Hungarian Civil Engineers. He studied at the Institutum Geometricum et Hydrotechnicum (founded 1782), the world's first university-level civil engineering school in Pest-Buda. After working as a civil engineer for a short period, he was invited to join the
survey staff of Mátyás Huszár, and from 1822 he worked as a surveyor on the Körös rivers.
Vörös worked as a surveyor, engineer, engraver and map maker for the Hungarian Daube Mapping Project beginning in 1828. The mapping of the river's section between Buda and Pest became a priority task because of the regular floods threatening the developing and expanding sister cities.
Vörös was commissioned to construct a detailed and accurate map of Budapest from the available topographic and hydrographic data. His large, detailed and elegant map was lithographed by the author and was published in 1833 with the support of the Bridge Builder's Union.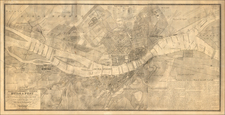 Place/Date:
Budapest / 1833