Giovanni Andrea Vavassore (also Zoan Andrea or Zav; Valvassore, Vavasore Vadagnino, Vadianus, Guadagnino), the Venetian publisher and printer, was born in ca. 1495 and died in ca. 1572. According to the History of Cartography, his will was opened May 31, 1572. Woodward, in his essay on the Italian map trade (1480-1760), calls Pagano and Vavassore, one of the "early Venetian masters of map engraving" who came into their own in the 1530s. Woodward explains that Vavassore was born in Telgate and was working as an artist and blockcutter by 1510. In 1523, Vavassore described himself as an "incisor figuraturum" (vol. 1, p. 780).
The British Museum and Whitcombe say he started as a printmaker, but then started publishing as well around 1530. It was in that year (before November) that he published Opera nova contemplativa per ogni fidel christiano, which had 120 illustrations attributed to Giovanni's brother, Florio (British Library (BL) listing says "1540?"). Tooley lists Vavassore as flourishing between 1510 and 1572, dates with which Bagrow concurs. The Leiden Textile Research Center gives his flourishing dates as 1530 to 1573, while the British Museum lists 1518 to 1572. The BL has several of his works dated to 1530 and 1532. In the 1550s and 1560s he attained privileges to print books, all of which had many woodcuts. Woodward's article explains that he was a member of a painters' guild in 1530, the same year he is listed as a book printer (as Vadagnin Zuan Andrea; Bagrow, introduction). From 1537-44, he shared his imprint with his brothers, but from 1544 onward he is the only one listed.
The dates and information on his cartographic works are variable. Woodward says that nine of his nineteen known geographic works are undated, a figure taken from Bagrow. None survive in more than four impressions. The earliest item Woodward cites is a 1515 woodcut of the Battle of Marignano. Vavassore's next dated map is that of Spain (1532) (vol. 1, p. 780).
Tooley credits him with the view of Constantinople used by Braun and Hogenberg (ca. 1520). Tooley also attributes a ca. 1520 map of Central Europe and one of Rhodes (1522, also in Bagrow) to Vavassore. In 1532, he released Nova descriptio Hispaniae and, in 1536, a reduced copy of Oronce Fine's Nova totius Galliae desriptio. In 1539, Tooley credits him with creating a two-sheet portolan chart of the eastern Mediterranean, Adriatic, and Aegean Seas, supposedly the first printed chart intended for use at sea (History of Cartography lists 1540; vol. 1, p. 21).
Karrow supports these early attributions, giving a date of ca. 1520s for Byzantium sive Costantineopolis. Opera di Giovanni Andrea Vavassore detto Vadagnino (map 87/15, pg. 615). The maps from the 1530s are: France (Nova totius Galliae descriptio, reduction of a Fine map as already noted, 1536, map 27/3.1, p. 176), Germany (in lower left corner: Opera di Giouani Andrea Vauassore ditto Vadagnino, copied in part from Eichstätt map attributed to Cusanus, ca. 1530, 23/1.7, p. 137 (History of Cartography dates it to ca. 1538 (vol. II, p. 1821)), Spain (Nova descriptio Hispaniae, 1532, p. 444, 606), and Venice (ca. 1535, one source for Pagano's later view of Venice, p. 615).
Bagrow gives the most comprehensive list of Vavassore's works. Pictures of his list are available on Dropbox.
http://trc-leiden.nl/trc-needles/clothing-undergarment/people-and-functions/artists-designers-and-embroiderers/vavassore-giovanni-andrea-active-1530-1573
http://www.britishmuseum.org/research/search_the_collection_database/term_details.aspx?bioId=104418
Leo Bagrow, Giovanni Andreas di Vavassore: A Venetian Cartographer in the 16th Century, A Descriptive List of his Maps (Jenkintown: The George H. Beans Library, 1939).
Robert W. Karrow, Jr., Mapmakers in the Sixteenth Century and Their Maps (Chicago: The Newberry Library by Speculum Orbis Press, 1993).
M. Kozlicic, "G.A. Vavassore's "Tabella" - Tecnological Turning-Point in the 16th Century Nautical Cartography of the Adriatic," in Informatologia 32 (Zagreb: Hrvatsko Komunikolosko Drustvo, 1999), 60-63.
G. Scaglia, "Les Travaux d'Hercule de Giovanni Andrea Vavassore reproduits dans les frises de Velez Blanco," Revue de l'art 127 (2000): 22-31.
Valerie Scott et al, eds., Tooley's Dictionary of Mapmakers: Revised Edition Q-Z (Riverside: Early World Press, 2004), 314-5.
Rodney Shirley, "Something Old, Something New from Paris and Nancy," IMCOS 67 (1996): 32-6.
David Woodward, ed., The History of Cartography, Volume Three: Cartography in the European Renaissance, vol. I and II (Chicago: University of Chicago Press, 2007).
David Woodward, "The Italian Map Trade, 1480-1650," in History of Cartography, vol. II, 773-803.
Christopher L.C.E. Whitcombe, Copyright in the Renaissance: Prints and the Privilegio in Sixteenth-Century Venice and Rome (Leiden: Brill, 2004), 124-6.
---
Archived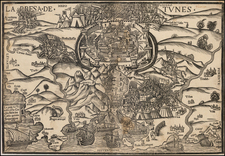 Place/Date:
Venice / 1535 circa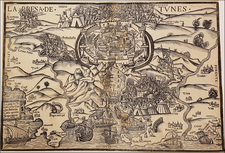 Place/Date:
Venice / 1535 circa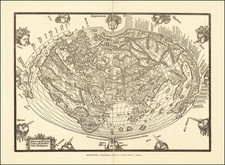 Place/Date:
Venice? (but Amsterdam) / 1540 circa (circa 1894)