Oliver Phelps (O.P. Anderson) is one of Seattle's first indigenous map publishing companies. Anderson was an amateur photographer and owner of a photographic supplies business in Seattle in the early 1900s. Anderson first worked as a bookkeeper in Seattle in the early 1880s, though by the end of that decade he was doing business as a draughtsman.
The earliest maps bearing Anderson's name appear in about 1885, including the name "Anderson Brothers." Most of these early maps are blue print maps, a style of mapmaking which was becoming more common in the 1880s with publishers looking to produce fast inexpensive maps that were quickly and easily updateable. This form of map was very popular in the west, where the rapid growth of communities, train lines and mining regions were especially robust. The first map jointly issued by Anderson and Whitworth & Thomson was West Seattle five acre tracts . . ., blue print map of a hand drawn plat map from the records of Kings County, circa 1885.
Anderson formed his civil engineering and map publishing business, O.P. Anderson & Co., in the early 1890s, with the business changing its name to the O.P. Anderson Map & Blue Print Co. by the mid 1890s. Beginning around 1900, Anderson began selling photographic supplies as president of Anderson Supply Co., located at 111 Cherry Street in Seattle.
Around 1913, Anderson's son, Maurice P. Anderson, took over as president of the company, and Anderson acted as secretary-manager, a position he continued to hold until around 1940, probably until his death. Anderson Supply Co. continued to do business, with Maurice Anderson as president, until the late 1950s.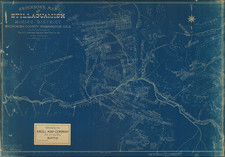 Place/Date:
Seattle / 1897 circa
---
Archived