Matteo, or Matthaus, Greuter published many religious and mythological scenes and is recognized for his elegant engraving style. Perhaps his most spectacular production was his twelve-sheet map of Italy, considered one of the finest ever produced of the country. He also produced other maps, though, including a plan of Rome (1619) and a plan of Mantua (1629). In addition to prints, plans, and maps, he is known to have engraved several globes.
A Catholic, Greuter was born in Strassbourg, but spent his earlier years working in Lyon and Avignon. Then, he struck out for Rome, where he began engraving a variety of works, including plans and maps, by 1606. He produced for a variety of patrons, including Cardinal Scipione Boghese, Pope Paul V, the Accademia dei Lincei, and Pope Urban VIII. He also made the etchings for Galileo's Macchie Solari [Letters on Sunspots] (1613), for which he developed a new copperplate etching technique.
As for globes, his first globe map is dated 1632. Greuter started globe making relatively late in his career; his first globe was published when he was nearly 70 years old. This 50cm globe was of such a high standard that globe expert Edward Luther Stevenson was prompted to write, "So well did he perform his work that he is entitled to rank with the leading globe makers of the Netherlands."
Greuter was strongly influenced by his Dutch counterparts, especially Willem Blaeu, whose globes Greuter updated. Stevenson notes that during the last years of his life, Greuter went on to produce a 1635 celestial globe and several reduced-size globes. Following Greuter's death in 1638, Giovanni Battista Rossi and, later, Domenico de Rossi, released subsequent Greuter globes. A number of these are detailed in Elly Dekker's book Globes at Greenwich and Stephenson's Terrestrial and Celestial Globes.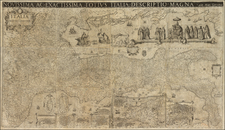 Place/Date:
Venice / 1630 (1657)
---
Archived
Place/Date:
Bologna / 1630 (1713)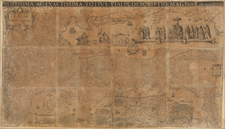 Place/Date:
Venice / 1630 (1657)