Well-known Santa Catalina Island photographer and fourth mayor of Avalon (1918-1926).
Among other credits, his work appears in Zane Grey's Great Game Fishing in Catalina (1919). In about 1910, Reyes visited and photographed the northern Channel Islands: San Miguel, Santa Rosa and Santa Cruz islands. The majority of his island photographs were taken on Santa Catalina Island, and many are in the collection of the Santa Catalina Island Museum.
In 1915, he was one of the original twelve members of the Santa Catalina Island Twenty-Five Year Club.
---
Archived

Place/Date:
Los Angeles / 1911 circa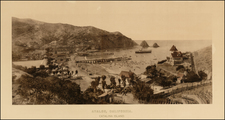 Place/Date:
Avalon, California / 1913