Zacharias Wolf was a Swedish Engineer and Officer who was active at the beginning of the 18th Century in the Great Northern War, against the Danes and Russians.
After the Great Northern War, Wolf served as commander in the Holstein-Gottorp Army and received a seat in the provincial government in Kiel. Among his early work was a detailed manuscript drawing of the Battle of Narva, based upon first hand observations, which was later engraved by Fritzsch.
Wolf is an artist [edit] Wolf was also a Swedish officer about conditions in Narva in 1700, well informed, either by personal observation or reports. Because it is a picture of the siege of Narva handed according to which Wolf as a draftsman and engraver Fritzsch.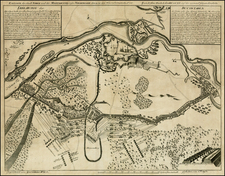 Place/Date:
n.p. / 1700 circa