Adam Olearius (born Adam Ölschläger or Oehlschlaeger) (1603 – 1671) was a German scholar, mathematician, geographer and librarian. He served as secretary to the ambassador sent by Frederick III, Duke of Holstein-Gottorp, to the Shah of Persia.
Olearius was born near Magedberg and studied in Leipzig. He was the librarian and court mathematician to Frederick III. In 1633, he was appointed secretary to the ambassadors Philip Crusius and Otto Bruggemann, who were sent by the duke to Muscovy and Persia in the hope of making arrangements by which the newly-founded city of Friedrichstadt would become the terminus of an overland silk-trade. The embassy began in Gottorp on October 22, 1633, and travelled by Hamburg, Lübeck, Riga, Dorpat (five months' stay), Reval, Narva, Ladoga, and Novgorod to Moscow, where the party arrived on August 14, 1634.
The embassy entered into a treaty with the Czar of Russia, and returned forthwith to Gottorp, where the treaty was ratified. The embassy returned to Moscow on March 29, 1636 and after a 3 month stay, proceeded to Balakhna near Nizhniy Novgorod, where the embassy had already sent advance agents to prepare a boat for a descent of the Volga. Their voyage down the great river and over the Caspian Sea was slow and hindered by accidents, especially by grounding, as near Derbent. The embassy finally reached the Persian court at Isfahan on August 3, 1637 and and met with the shah. The embassy was not successful in obtaining a treaty.
On the return trip, Olearius parted from his colleagues and embarked directly for Lübeck. On his way he had made a chart of the Volga, and partly for this reason the Czar wished to either persuade or compel him to enter his service. Once back at Gottorp, Olearius became librarian to the duke, who also made him keeper of his cabinet of curiosities, and induced the Czar to excuse Olearius from returning return to Moscow.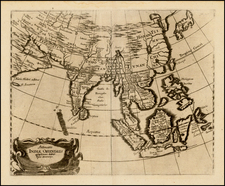 Place/Date:
n.p. / 1660 circa
---
Archived