The item illustrated and described below is sold, but we have another example in stock. To view the example which is currently being offered for sale, click the "View Details" button below.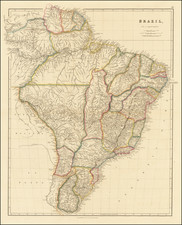 1842 John Arrowsmith
$ 245.00
Description
Brazil During The Regency of Emperor Pedro II
A marvelous highly detailed map of Brazil, colored by regions, published in London by John Arrowsmith.
The map shows more detail than any contemporary commercial atlas map of the region.
This is the first state of the map, which would be updated periodically over the next several decades.
19th Century Brazil
In 1808, the Portuguese court, fleeing from Napoleon's invasion of Portugal during the Peninsular War in a large fleet escorted by British men-of-war, moved the seat of government to its then-colony, Brazil. In 1815, the King of Portugal vested Brazil with the dignity of a united kingdom with Portugal and Algarves. In 1817 a revolt occurred in the province of Pernambuco. In two months it was suppressed.
When King João VI of Portugal left Brazil to return to Portugal in 1821, his elder son, Pedro, stayed in his stead as regent of Brazil. One year later, Pedro stated the reasons for the secession of Brazil from Portugal and led the Independence War, instituted a constitutional monarchy in Brazil assuming its head as Emperor Pedro I of Brazil.
Also known as "Dom Pedro I", after his abdication in 1831 for political incompatibilities (displeased, both by the landed elites, who thought him too liberal and by the intellectuals, who felt he was not liberal enough), he left for Portugal leaving behind his five-year-old son as Emperor Pedro II, which left the country ruled by regents between 1831 and 1840. This period was beset by rebellions of various motivations, such as the Sabinada, the Ragamuffin War, the Malê Revolt, Cabanagem and Balaiada, among others. After this period, Pedro II was declared of age and assumed his full prerogatives. Pedro II started a more-or-less parliamentary reign which lasted until 1889, when he was ousted by a coup d'état which instituted the republic in Brazil.
John Arrowsmith Biography
The Arrowsmiths were a cartographic dynasty which operated from the late-eighteenth century to the mid-nineteenth. The family business was founded by Aaron Arrowsmith (1750-1823), who was renowned for carefully prepared and meticulously updated maps, globes, and charts. He created many maps that covered multiple sheets and which were massive in total size. His spare yet exacting style was recognized around the world and mapmakers from other countries, especially the young country of the United States, sought his maps and charts as exemplars for their own work.
Aaron Arrowsmith was born in County Durham in 1750. He came to London for work around 1770, where he found employment as a surveyor for the city's mapmakers. By 1790, he had set up his own shop which specialized in general charts. Arrowsmith had five premises in his career, most of which were located on or near Soho Square, a neighborhood the led him to rub shoulders with the likes of Joseph Banks, the naturalist, and Matthew Flinders, the hydrographer.
Through his business ties and employment at the Hydrographic Office, Arrowsmith made other important relationships with Alexander Dalrymple, the Hudson's Bay Company, and others entities. In 1810 he became Hydrographer to the Prince of Wales and, in 1820, Hydrographer to the King.
Aaron Arrowsmith died in 1823, whereby the business and title of Hydrographer to the King passed to his sons, Aaron and Samuel, and, later, his nephew, John. Aaron Jr. (1802-1854) was a founder member of the Royal Geographical Society (RGS) and left the family business in 1832; instead, he enrolled at Oxford to study to become a minister. Samuel (1805-1839) joined Aaron as a partner in the business and they traded together until Aaron left for the ministry. Samuel died at age 34 in 1839; his brother presided over his funeral. The remaining stock and copper plates were bought at auction by John Arrowsmith, their cousin.
John (1790-1873) operated his own independent business after his uncle, Aaron Arrowsmith Sr., died. After 1839, John moved into the Soho premises of his uncle and cousins. John enjoyed considerable recognition in the geography and exploration community. Like Aaron Jr., John was a founder member of the RGS and would serve as its unofficial cartographer for 43 years. Several geographical features in Australia and Canada are named after him. He carried the title Hydrographer to Queen Victoria. He died in 1873 and the majority of his stock was eventually bought by Edward Stanford, who co-founded Stanford's map shop, which is still open in Covent Garden, London today.