The item illustrated and described below is sold, but we have another example in stock. To view the example which is currently being offered for sale, click the "View Details" button below.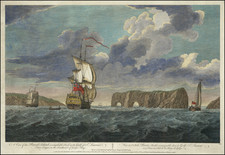 1768 circa Hervey Smyth / Carington Bowles
$ 1,500.00
Description
Rare First State of Smyth's View in the Gulf of St. Lawrence
The view shows a number of sailing ships at sea with Pierce Island in the distance, with its two arches piercing it at the base. This is the earliest known image of Pierced Island in the St. Lawrence River, sketched in 1760 while James Cook was there serving on the H.M.S. Pembroke. It includes the H.M.S. Vanguard, a ship of the Line, under the command of Captain Robert Swanton.
Captain Hervey Smyth was an aide de camp to General James Wolfe. His views were separately published in London in 1760 by Thomas Jefferys, and later published in Scenographia Americana (London: 1768).
This is one of a series of six views of remarkable places in the Gulf and River of St. Lawrence. Smyth's drawings were drawn on the spot and juxtaposed the British forces against dramatic Canadian landscapes. The complete set includes:
A View of the City of Quebec, the Capital of Canada. Taken partly from Pointe des Peres, and partly on board the Vanguard Man of War.
A View of the Fall of Montmorenci and the Attack made by General Wolfe.
A View of Cape Rouge or Carouge, Nine Miles above the City of Quebec.
A View of Gaspe Bay, in the Gulf of St. Lawrence.
A View of Miramichi, a French Settlement in the Gulf of St. Lawrence.
A View of the Pierced Island, a remarkable Rock in the Gulf of St. Lawrence.
Pierced Rock
Percé Rock is a huge sheer rock formation in the Gulf of Saint Lawrence on the tip of the Gaspé Peninsula in Quebec, Canada, off Percé Bay. Percé Rock appears from a distance like a ship under sail.
It is one of the world's largest natural arches located in water and is considered a geologically and historically rich natural icon of Quebec.
Rarity
The view is extremely rare in the first state. We locate no other examples on the market in many decades.
The American Art Assocation offer a complete set of the six views for sale on February 14, 1928 (Lot 86), in The Notable Library formed by the late Col. Rhinelander Waldo of New York City. Another set was offered by Maggs in 1915 (Catalog 334-859) for the princely sum of 52.10 GBP.
Provenance
Ombersley Court, Worcestershire, United Kingdom; Sold by the Trustees of the Sandys Trust at Sotheby's London, 14 May 2019, Lot 61.
Condition Description
Minor soiling.
Thomas Jefferys Biography
Thomas Jefferys (ca. 1719-1771) was a prolific map publisher, engraver, and cartographer based in London. His father was a cutler, but Jefferys was apprenticed to Emanuel Bowen, a prominent mapmaker and engraver. He was made free of the Merchant Taylors' Company in 1744, although two earlier maps bearing his name have been identified.
Jefferys had several collaborators and partners throughout his career. His first atlas, The Small English Atlas, was published with Thomas Kitchin in 1748-9. Later, he worked with Robert Sayer on A General Topography of North America (1768); Sayer also published posthumous collections with Jefferys' contributions including The American Atlas, The North-American Pilot, and The West-India Atlas.
Jefferys was the Geographer to Frederick Prince of Wales and, from 1760, to King George III. Thanks especially to opportunities offered by the Seven Years' War, he is best known today for his maps of North America, and for his central place in the map trade—he not only sold maps commercially, but also imported the latest materials and had ties to several government bodies for whom he produced materials.
Upon his death in 1771, his workshop passed to his partner, William Faden, and his son, Thomas Jr. However, Jefferys had gone bankrupt in 1766 and some of his plates were bought by Robert Sayer (see above). Sayer, who had partnered in the past with Philip Overton (d. 1751), specialized in (re)publishing maps. In 1770, he partnered with John Bennett and many Jefferys maps were republished by the duo.