The item illustrated and described below is sold, but we have another example in stock. To view the example which is currently being offered for sale, click the "View Details" button below.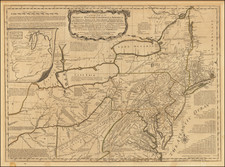 1755 (1775) Robert Sayer / Thomas Jefferys / Lewis Evans
$ 4,400.00
Description
A nice example of this edition of Evans' landmark map, published from the Surveys of Evans, Thomas Walker and Christopher Gist 1750-51. The map was originally sent to the London Board of Trade in 1751 and used by General Braddock during the French & Indian War. The map was later published by Benjamin Franklin in Philadelphia in 1755. Henry Stevens documents 18 states of the map, of which this example is a so called pirated edition by Laurie & Whittle. The map was the first to show Oil in Pennsylvania, first to show coal in Ohio, the first to accurately map the trans-Appalachian and Ohio River regio and is widely regarded as one of the two or three most important maps of late Colonial America. Ristow 25, fig. 1-1. A short fold split enters the image by approximately 2 inches. Ordinarily a $2000.00 map. This is a fine full original example of this important map, updated to reflect post Revolutionary war details. Large inset of the region bounded by Lake Superior, the Mississippi and Alleghany Rivers.
Richard Holmes Laurie Biography
Richard Holmes Laurie (1777-1858) was the son of mezzotint engraver Robert Laurie, who had taken over Robert Sayer's publishing house with James Whittle in 1794. Richard Holmes Laurie joined in a partnership with Whittle when his father retired in 1812. The name of the firm then switched from Laurie & Whittle to Whittle & Laurie. Whittle died in 1818, leaving Richard Holmes to continue publishing alone as R. H. Laurie.
When the Hydrographic Office opened in 1795, it was tasked with creating and producing all the nautical charts for the Royal Navy so as to wean the Navy off dependence on foreign charts. By the 1820s, private publishers were augmenting HO charts and competing with them, including Richard Holmes Laurie. Richard gave up publishing anything except nautical materials by 1830. He also sold charts to Trinity House, the lighthouse and maritime safety fraternity. He died in 1858.
The firm continued to print under the name R.H. Laurie even after 1858. Later, the firm was managed by Laurie's draughtsman, Alexander George Findlay, and, later, Daniel and William Kettle.
James Whittle Biography
James Whittle (1757-1818) was a British engraver and map printer. Whittle was employed by Robert Sayer (ca. 1725-1794). Together with Robert Laurie (1755?-1836), he took on Sayer's business when the older man died in 1794. The two traded together as Laurie & Whittle until 1812, when Laurie retired. They had specialized in sea charts and maritime atlases. Whittle then partnered with Laurie's son, Richard Holmes Laurie, until he died in 1818.