The item illustrated and described below is sold, but we have another example in stock. To view the example which is currently being offered for sale, click the "View Details" button below.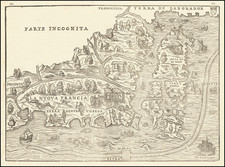 1556 (1606) Giovanni Battista Ramusio / Giacomo Gastaldi
$ 4,500.00
Description
The first printed map devoted to New England and New France, showing the eastern seaboard from New York Bay to the Gulf of St. Lawrence.
The map is the first to use the name New France and one of the earliest to delineate New York Harbor and Manhattan with any accuracy. It has been called the best surviving early map to illustrate Verrazano's discovery of New York Harbor. (Cohen & Augustyn). The map is based on the voyages of Giovanni da Verrazano in 1524 and Jacques Cartier in 1534. Verrazano sailed up the eastern coast discovering Ney York Harbor on the way, with this monumental event graphically depicted on the map.
New York Harbor is delineated in the low left, with Manhattan pictured as a peninsula named Angoulesme. This name, which Verrazano bestowed on his discovery, refers to Francis I's title before he became king. This name never was picked up for general usage and soon disappeared from maps. From New York, Verrazano continued further north, visiting Newport Bay, here called Port Real, and Narragansett Bay, named as Port du Refuge. Verrazano skirted the New England coast further north, which is why the map is missing the familiar shape of Cape Cod and also the reason that the distance between the bays of southern New England and the islands around the Gulf of St. Lawrence is so foreshortened. The northern region around the St. Lawrence is based on Cartier's voyage. Terra Nuova (Newfoundland) is shown as comprised of several islands and the St. Lawrence River is depicted running west from the Gulf, eventually meeting with the Hudson River north of Angouleme. This may reflect a mixed up belief that Cartier and Verrazano met while exploring these rivers.
The map is the first cartographic depiction of the northeast by itself and it is based on the earliest explorations in the region. A nice example of the 1606 edition of the map, which can be distinguished from earlier editions by the pagination at the top left and right.
Reference
Cohen and Augustyn, Manhattan in Maps, p. 18. Burden 25; Augustyn & Cohen p.18; McCorckle 556.1; Kershaw 15b; Verner & Stuart-Stubbs 2; Goss 8; Suarez 26; Potter p.241.
Giovanni Battista Ramusio Biography
Giovanni Battista Ramusio (1485-1557) was an Italian geographer who worked within the Venetian Empire. His father had been a magistrate and he himself served as a civil servant to Venice. He served throughout Europe, allowing him to build up a network of informants and a collection of travel materials. He compiled this information into his enduring masterpiece, Navigationi et Viaggi, in 1550 (first volume) and 1556 (third volume). The second volume appeared after his death in 1559, as the original manuscript had been destroyed by a fire.
Giacomo Gastaldi Biography
Giacomo Gastaldi (1500-1566) is considered the foremost Italian cartographer of the sixteenth century, alongside Paolo Forlani. His skills of compilation are comparable to those of Mercator and Ortelius, yet much less is known of his life than of his two contemporaries. Gastaldi was born in Villafranca, Piedmont, but had established himself in Venice by 1539. He originally worked as an engineer, but turned to mapmaking from the 1540s onward.
It was in Venice where he made his reputation as an engraver, geographer, and cosmographer; for example, he was asked to fresco maps of Asia and Africa in the Palace of the Doge, or the Council of Ten, Venice's governmental body. He also frequently consulted on projects for the Savi sopra la Laguna, drawing maps for this body which oversaw the regulation of fresh and salt water around Venice.
His contemporaries also recognized his skill, as he was named cosmographer to the Republic of Venice, was a member of the Accademia Veneziana, and was a major source for other geographers and mapmakers including Camocio, Bertelli, Cock, Luchini, and Ortelius. He even had his own distinct style of copper engraving that made him a pioneer in his day and makes his works iconic today.
Gastaldi enjoyed an especially productive relationship with Giovanni Battista Ramusio, Secretary of the Venetian Senate, who used Gastaldi's maps for his famous travel account collection, Navigationi et Viaggi. Gastaldi also tutored Ramusio's son in cosmography.