The item illustrated and described below is sold, but we have another example in stock. To view the example which is currently being offered for sale, click the "View Details" button below.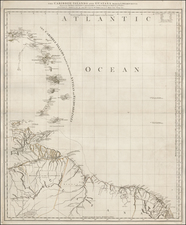 1776 Thomas Jefferys / William Faden
$ 1,800.00
Description
Scarce map of the Eastern Caribbean (beginning with the Virgin Islands) and part of South America, from Margarita and Trinidad Islands to Cayenne and Lake Parima, including a nice treatment of the Orinoco. The West Indies coverage includes the Virgin Islands, west to St. Thomas and St. Croix, along with the Leeward and Windward islands. Nice detail. The map is quite rare, having appeared only twice in dealer catalogues in the past 25 years.
Thomas Jefferys Biography
Thomas Jefferys (ca. 1719-1771) was a prolific map publisher, engraver, and cartographer based in London. His father was a cutler, but Jefferys was apprenticed to Emanuel Bowen, a prominent mapmaker and engraver. He was made free of the Merchant Taylors' Company in 1744, although two earlier maps bearing his name have been identified.
Jefferys had several collaborators and partners throughout his career. His first atlas, The Small English Atlas, was published with Thomas Kitchin in 1748-9. Later, he worked with Robert Sayer on A General Topography of North America (1768); Sayer also published posthumous collections with Jefferys' contributions including The American Atlas, The North-American Pilot, and The West-India Atlas.
Jefferys was the Geographer to Frederick Prince of Wales and, from 1760, to King George III. Thanks especially to opportunities offered by the Seven Years' War, he is best known today for his maps of North America, and for his central place in the map trade—he not only sold maps commercially, but also imported the latest materials and had ties to several government bodies for whom he produced materials.
Upon his death in 1771, his workshop passed to his partner, William Faden, and his son, Thomas Jr. However, Jefferys had gone bankrupt in 1766 and some of his plates were bought by Robert Sayer (see above). Sayer, who had partnered in the past with Philip Overton (d. 1751), specialized in (re)publishing maps. In 1770, he partnered with John Bennett and many Jefferys maps were republished by the duo.
William Faden Biography
William Faden (1749-1836) was the most prominent London mapmaker and publisher of the late-eighteenth and early-nineteenth centuries. His father, William Mackfaden, was a printer who dropped the first part of his last name due to the Jacobite rising of 1745.
Apprenticed to an engraver in the Clothworkers' Company, he was made free of the Company in August of 1771. He entered into a partnership with the family of Thomas Jeffreys, a prolific and well-respected mapmaker who had recently died in 1771. This partnership lasted until 1776.
Also in 1776, Faden joined the Society of Civil Engineers, which later changed its name to the Smeatonian Society of Civil Engineers. The Smeatonians operated as an elite, yet practical, dining club and his membership led Faden to several engineering publications, including canal plans and plans of other new engineering projects.
Faden's star rose during the American Revolution, when he produced popular maps and atlases focused on the American colonies and the battles that raged within them. In 1783, just as the war ended, Faden inherited his father's estate, allowing him to fully control his business and expand it; in the same year he gained the title "Geographer in Ordinary to his Majesty."
Faden also commanded a large stock of British county maps, which made him attractive as a partner to the Ordnance Survey; he published the first Ordnance map in 1801, a map of Kent. The Admiralty also admired his work and acquired some of his plates which were re-issued as official naval charts.
Faden was renowned for his ingenuity as well as his business acumen. In 1796 he was awarded a gold medal by the Society of Arts. With his brother-in-law, the astronomer and painter John Russell, he created the first extant lunar globe.
After retiring in 1823 the lucrative business passed to James Wyld, a former apprentice. He died in Shepperton in 1826, leaving a large estate.