Introduction:
Although best known for his world atlas, the Theatrum Orbis Terrarum, the Parergon was a project of personal interest and the work that Ortelius himself considered his greatest achievement. He had a deep interest in classical antiquity which spurred him to create the Parergon maps, and the amount of time and detail he put into each map is clearly evident. Ortelius hand drew each map of the Parergon, which required considerable skill and knowledge of the area's history and geography. It is considered the first historical atlas.
Parergon means supplementary and, accordingly, the first three Parergon maps were published as supplements to the 1579 edition of the Theatrum, which had already been in print for nine years. Over time, successive editions of the Theatrum were supplemented with more Parergon maps, and there are 55 known plates overall. The Parergon was also published as its own atlas separate from the Theatrum on two occasions, once in 1595 and again in 1624.
The Parergon was highly successful both as a supplement to the Theatrum and on its own. It was variously translated into French, German, Italian, and English and regularly printed until 1612. Further editions were more sporadic but still popular, such as the 1624 edition which was published twenty-six years after Ortelius' death in 1598.
The impressive weaving of myth and history has created a beautiful map, and the level of detail present speaks to Ortelius' skill as a mapmaker. This map would be a valuable addition to a collection of Italian or Mediterranean maps, Ortelius maps, or maps of classical antiquity.
---
---
Archived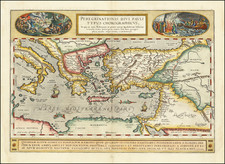 Place/Date:
Antwerp / 1624