Matthias Zündt was an engraver, sculptor and goldsmith. His work was influenced by the 'Little Masters', a group of sixteenth-century printmakers, predominantly from Nuremberg, who specialized in producing very small prints.
Zündt is famous for incorporating sea horses and satyrs in his work.
Trained in Nuremberg by court goldsmith, Wenzel Jamnitzer, he made many etchings that served as templates for gold and silversmiths. These appear in his specimen book Insigne Ac Planè Novum Opus Cratero graphicum (1551). Later in his career, between 1565 and 1571, Zundt tried other areas, including maps
There are eight known maps by Zündt and most are related to the Ottoman wars. In 1568 Zündt produced 'Tabula complectens totam Belgicam, Flandriam, Brabantiam, Selandiam, Holandiam, Frisiam, Hannoniam, Gelriam…'.
---
Archived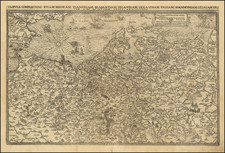 Place/Date:
Cologne / 1568 (1590 circa)
Size:
19.25 x 12.5 inches