The present item was hand-colored and illuminated in gold and silver by Georg Mack the Elder, and/or one of his family members or assistants. In her definitive book on 16th-century print hand-coloring, Susan Dackerman includes a case study of the Mack family, along with numerous illustrated examples of their work. She says of the family: "The Nuremberg court records indicate that the Mack family-Hans, Georg the Elder, and Georg the Younger-were among the most active and important Briefmaler and Illuministen in the city in the late sixteenth and early seventeenth centuries... The family members painted in a refined style, imitative of miniature painting and manuscript illumination, employing a diverse palette of transparent and opaque colors." The woodcuts and engravings the Macks colored are wide-ranging in subject and genre, encompassing popular broadsheets, woodcuts and engravings by celebrated masters such as Dürer, and botanical illustrations, suggesting that their work appealed to a varied market."
Hans Mack (active Nuremberg, circa 1536-1585) was evidently the first member of the Mack family involved in the print-coloring business. His coloring style, while attractive in its own right, does not bear the hallmarks of detail-orientation and lavish illumination that characterized the output of the Georgs of the family.
Georg Mack the Elder (active Nuremberg, circa 1556-1601) was probably the most prolific and famous of the Mack family members. It is not known exactly what his relationship was with Hans Mack, though Dackerman suggests that he was probably the latter's son. Georg Mack the Elder is known to have worked on prints by Jost Amman and Dürer, as well as maps and views by Braun & Hogenberg and Abraham Ortelius.
Georg Mack the Younger (active Nuremberg, circa 1582-1621 or later) was an extremely accomplished illuminator and colorist in his own right and worked on such books as Besler's Hortus Eystettensis in addition to the art and popular prints that were the mainstay of his family's business for decades. It seems that he also had a son named Georg Mack who was involved in print coloring.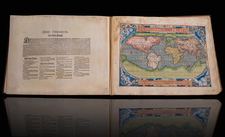 Place/Date:
Antwerp and Nuremberg / 1570 (with extra-illustration in 1572 and 1587)