The item illustrated and described below is sold, but we have another example in stock. To view the example which is currently being offered for sale, click the "View Details" button below.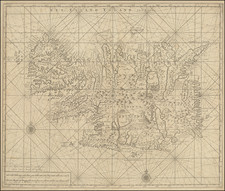 1720 Gerard Van Keulen
$ 4,500.00
Description
Het Eyland Ysland in't Groot, a rare sea chart of Iceland by Gerard Van Keulen in Amsterdam circa 1720, offers an intriguing representation of Iceland's geography and topography during the early 18th century. With substantial terrestrial detail, this chart offers more than a maritime guide; it serves as a comprehensive portrayal of the island's unique features.
Rendered in great detail, the chart divides Iceland into four major sections: West Lendinga Fiordung, Noord Lendinga Fiordung, Suyd Lendinga Fiordung, and Oost Lendinga Fiordung. Remarkably, the chart depicts the famed Hekla volcano, the "den Bergh Hekla," replete with the artistic representation of smoke and fire rising from its peak. This depiction encapsulates a significant historical event, as indicated by the note "deese Berg brand niet meer heest in 't Jaar 1692 opgehouden," which states that the mountain ceased to burn in 1692.
Van Keulen's work arises during the golden age of Dutch mapmaking, where the Van Keulen family was a dominant force. Their legacy, sustained from the late 17th century until 1823, produced an impressive output of sea charts. This particular map stands out for its departure from the sea chart tradition, basing its design on the land map by Joris Carolus. This chart, therefore, straddles the worlds of maritime and terrestrial mapping, incorporating elements such as rhumb lines, compass roses, and detailed shoreline depictions, while simultaneously presenting extensive inland features.
The chart displays various landmarks and settlements with striking accuracy, highlighting the bishoprics of Skalholt and Holar with triform cathedrals, and marking other geographical features such as fjords, rivers, and mountains. It even identifies numerous glaciers by name, a level of detail unusual for a sea chart. However, it also includes fantastical elements like the "Goubermans Eylanden of Klippen" in the west of Iceland, an imaginary landmass that does not exist in reality. The inaccurate drawing of the Arctic Circle adds a further element of cartographic eccentricity, indicating a continued reliance on imperfect information and maritime lore. Overall, Het Eyland Ysland in't Groot by Gerard Van Keulen is a masterwork of 18th-century cartography, a fusion of science and artistry, offering a compelling insight into early modern perceptions of Iceland.
Condition Description
Expert restoration along centerfold and bottom edge, with some reinstatement of image at the bottom and lower right edges.
Reference
https://islandskort.is/map/132#?c=0&m=0&s=0&cv=0&r=0&xywh=-1937%2C-1%2C11425%2C6262
Gerard Van Keulen Biography
The Van Keulens were a family of chartmakers and publishers. The firm, In de Gekroonde Lootsman (In the Crowned Pilot), was founded in 1678 by Johannes van Keulen (1654-1715). Van Keulen originally registered his business as a vendor of books and instruments (specifically cross-staffs). In 1680, however, he gained a privilege from the States of Holland and West Friesland for the publication of pilot guides and sea atlases.
In that year, van Keulen released his Zee-Atlas (Sea Atlas), which secured him a name in the competitive maritime publishing market. In 1681, he published the first volume of Nieuwe Lichtende Zee-Fakkel (New Shining Sea Torch). This would be the first of an eventual five volumes originally published between 1680 and 1684. A sixth volume was added in 1753. The Zee-Fakel won van Keulen lasting fame. The atlas had charts compiled by Claes Jansz Vooght and artwork from Jan Luyken. It proved immensely popular and was reprinted until 1783. There were translations in French, English, Spanish, and Italian.
The late-seventeenth century was an auspicious time to enter the maritime chart business. Previous industry leaders had either closed shop, died, or retired, leaving space for a new competitor. Van Keulen proceeded to buy up the stock and privileges of several maritime publishing firms; the most notable was the stock of Hendrik Doncker, acquired in 1693.
Johannes' son, Gerard (1678-1726) took over the business upon his father's death. Gerard was a skilled engraver and mathematician. His talents were noticed, as in 1706 he was named as Hydrographer to the Dutch East India Company (VOC).
In turn, Gerard's son Johannes II (1704-1770) came to run the shop. He was also tied to the VOC, and his role as their chartmaker allowed his charts to be considered as quasi-official government documents. It is with access to formerly clandestine VOC geographic knowledge that Johannes the Younger was able to add a sixth volume to the Zee-Fakkel, which covered the East Indies. Johannes also continued to sell instruments, including the recently-invented Hadley's Quadrant from 1744.
When Johannes II died in 1770, his widow ran the business in his stead, aided by her two sons, Cornelis Buys (1736-1778) and Gerard Hulst (1733-1801). Now a century old, the family business had extended to include an anchor factory. After Cornelis died in 1778, Gerard took on the management of the firm alone. He oversaw the introduction of sextants to their inventory and published the Dutch Nautical Almanac beginning in 1788. Annual editions appeared until 1885. Gerard also served as an original member of the Dutch Commission for Longitude at Sea from 1787.
Gerard's widow ran the business for nine years after his death, when their son, Johannes Hulst, started to lead the firm in 1810. After his death in 1844, the firm passed out of family hands and into the control of Jacob Swert, a skilled cartographer who had worked for the business for two decades. He passed the work to his son, another Jacob, in 1866. By the mid-nineteenth century, the conversion from sail to steam had diminished the size of the market for charts. Fewer sailors needed fewer maps, charts, and instruments. In 1885, after 207 years in business, In de Gekroonde Lootsman closed its doors and auctioned its stock.