The item illustrated and described below is sold, but we have another example in stock. To view the example which is currently being offered for sale, click the "View Details" button below.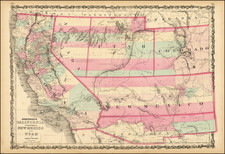 1862 Alvin Jewett Johnson & Benjamin P Ward
$ 575.00
Description
Early edition of Johnson's map of the Southwest. First Appearance of a Defined Colorado in the Series.
Johnson and Browning's important map of California, Nevada, Utah, Colorado, and New Mexico.
Despite the title, Arizona appears below New Mexico (Baylor Line), a nascent Nevada appears, taking a large chunk out of California and with a truncated bottom, Utah is far wider than its final boundary, and Colorado appears for the first time.
Many counties run from California to the Western Boundary of Texas, across all of New Mexico. Colorado has no counties yet, only those extending across the border from Utah. The map includes explorers' routes, the major routes of commerce, towns, forts, Indian tribes, mountains, rivers, roads, mining districts, proposed railroad routes, important dates in the evolution of the US-Mexico Boundary, and other features.
Johnson's map of the West is one of the most interesting and collectible maps of the period. The maps were updated at least annually, showing profound territorial boundary changes and county formations from year to year and even within a single year. A comprehensive collection of maps of the American West is incomplete without a good run of these maps.
States
The present map is Ira Lourie's State 3.0 (first plate, first state), which he dates to 1861-62, with the following note from Ira Lourie's Johnson Mapping Project:
The names "UTAH" and "NEVADA" no longer overlap; NV boundary now extends in the northwest from longitude 116 past 120 to the eastern edge of Goose Lake then due S to Beckwith Pass then south along the Sierra Nevada Mtns to southern border which is the same as UT's; also CO defined out of UT, KS, NE.
Condition Description
Original hand color. Minor fold toning.
Reference
http://www.johnsonmapproject.org/map-identifier.php
Alvin Jewett Johnson Biography
Alvin Jewett Johnson (1827 - 1884) was an American map publisher. Born in Wallingford, Vermont, he received only a basic public education, but he still served as a school teacher for several years before moving to Richmond, Virginia and, in 1857, New York City. Johnson also worked as a book canvasser for the map publisher J.H. Colton.
Johnson's name first appears on maps published with Samuel N. Gaston and D. Griffing Johnson (no clear relation) in the mid-1850s, and his name (along with Ross Browning) appeared on Colton's atlas maps of 1859 and 1860. Although map historian Water Ristow speculates that Colton sold his copyrights to Johnson and his business partner, fellow Vermonter Browning, a more likely theory is that Johnson and Browning financially bailed out the Colton firm in exchange for the right to use Colton's existing copyrighted map plates. The first Johnson maps were mostly reissues of earlier Colton maps. Indeed, Johnson's earliest works described his firm as the "Successors to J. H. Colton and Company". Johnson converted the original Colton steel plate engravings to lithographic stones, allowing his firm to produce more maps at a lower price point.
In 1860, the Johnson firm published its first significant work, the Johnson's New Illustrated (Steel Plate) Family Atlas. The first edition of the Atlas bears imprints in both New York and Richmond, VA. In 1861, however, following the outbreak of the American Civil War, the Johnson & Browning firm abandoned their Richmond location. Browning seems to have remained in Virginia to pursue other ventures and, in 1861, Browning's portion of the firm was purchased by Benjamin P. Ward. The 1863 issue of the Atlas was one of the most unusual, it being a compilation of older Johnson and Browning maps, updated 1862 Johnson and Ward maps, and newer 1863 maps with a revised border design.
The 1864 issue of the Atlas is the first true Johnson and Ward atlas. Johnson published one more edition in partnership with Ward in 1865, after which Johnson becomes the sole publisher. The next issue of the Atlas, 1866, is the first purely Johnson atlas with all new map plates, updated imprints, and copyrights. Johnson maps include a unique border style, which changed over the years, but was not copied by other makers. These include a "strapwork border" from 1860 to 1863, a "fretwork border" from 1863 to 1869 and a "spirograph border" in 1870.
In addition to the Family Atlas, Johnson issued numerous wall maps, pocket maps, and, in the 1880s, the Cyclopedia. Johnson frequently updated his western atlas maps and on occasion, more than one update appeared in a single year. Johnson continued to publish the Family Atlas until 1887. In 1879, Johnson brought his son into the business, and their publications have the imprint "A.J. Johnson and Son" and, later, "A.J. Johnson and Co." Johnson's son continued the business until it shuttered in 1887.