The item illustrated and described below is sold, but we have another example in stock. To view the example which is currently being offered for sale, click the "View Details" button below.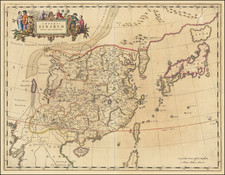 1655 Johannes Blaeu
$ 1,800.00
Description
A Landmark 17th Century Map of China
"Imperii Sinarum Nova Descriptio" or "A New Description of the Chinese Empire" is a crucial map of China, Korea, and Japan, brilliantly crafted by Johannes Blaeu and published in Martino Martini's Atlas Sinensis. This work is considered the first Western atlas of China and represents a pinnacle in the Golden Age of Dutch cartography.
This map is the result of the collaborative effort of Eastern and Western knowledge. Martino Martini, a Jesuit missionary from Italy, was based in Hangzhou, China. This location offered him access to extensive indigenous and Jesuit surveys across China. His geographical discoveries, combined with those of João de Goma and Maarten Gerritsz Vries, were incorporated into the "Imperii Sinarum Nova Descriptio."
The map itself is notable for several reasons. Firstly, Korea, which was previously depicted as an island in earlier maps, is now shown connected to the mainland, marking an important correction in Western cartography. Another significant feature of Blaeu's map is its depiction of Hokkaido (Ezo), recognized for the first time as an island north of Honshu, the main island of Japan.
China, the map's primary focus, is depicted with considerable accuracy for the 17th century. The Great Wall of China, one of the country's most famous landmarks, is clearly identifiable, marking a significant improvement in geographic understanding.
Martini brought his extensive knowledge and collected surveys back to Europe in 1654, where they were synthesized into the "Imperii Sinarum Nova Descriptio" by Blaeu. This map thus represents a significant advancement in Western knowledge of East Asia, reflecting the enriched cross-cultural exchanges of the 17th century.
Condition Description
Small areas of reinstated facsimile near centerfold.
Johannes Blaeu Biography
Joan, or Johannes, Blaeu (1596-1673) was the son of Willem Janszoon Blaeu. He inherited his father's meticulous and striking mapmaking style and continued the Blaeu workshop until it burned in 1672. Initially, Joan trained as a lawyer, but he decided to join his father's business rather than practice.
After his father's death in 1638, Joan and his brother, Cornelis, took over their father's shop and Joan took on his work as hydrographer to the Dutch East India Company. Joan brought out many important works, including Nova et Accuratissima Terrarum Orbis Tabula, a world map to commemorate the Peace of Westphalia which brought news of Abel Tasman's voyages in the Pacific to the attention of Europe. This map was used as a template for the world map set in the floor of the Amsterdam Town Hall, the Groote Burger-Zaal, in 1655.
Joan also modified and greatly expanded his father's Atlas novus, first published in 1635. All the while, Joan was honing his own atlas. He published the Atlas maior between 1662 and 1672. It is one of the most sought-after atlases by collectors and institutions today due to the attention to the detail, quality, and beauty of the maps. He is also known for his town plans and wall maps of the continents. Joan's productivity slammed to a halt in 1672, when a fire completely destroyed his workshop and stock. Joan died a year later and is buried in the Westerkerk in Amsterdam.