The item illustrated and described below is sold, but we have another example in stock. To view the example which is currently being offered for sale, click the "View Details" button below.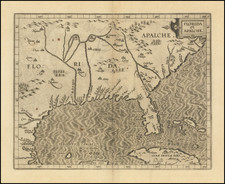 1597 Cornelis van Wytfliet
$ 3,400.00
Description
Rare early map of Florida, the Southeast, and Gulf Coast of North America, from Metellus America sive Novus Orbis, the second printed atlas to focus on the mapping of the New World.
Metellus's map is one of the earliest to focus on the Southeast and to name "Florida". It is the third earliest regional map (after the smaller map by Ortelius and a similar map by Wytfliet) to focus on the region.
The map is drawn from Geronimo de Chaves' map, which was copied by Ortelius in 1584 and improved by Wytfliet, who expanded the coverage to include more of the Gulf Coast, as well as extending the map north to the Outer Banks of North Carolina and south to Cuba. The inland details are derived from the reports of Hernando de Soto, during his explorations of 1539-42, making it one of the few 16th Century maps of North America to include significant inland detail from first-hand European Accounts.
The map varies considerably from the Chaves-Ortelius model. To the east of Florida, the Bahamas (Carybdis, Bahama and Lucaio) are far more numerous and increased in size. The Tortugas have become Testudines Insulae (Turtle Islands in Latin). The Costa de Fuego has been added and a greater sense of "barrier islands" has been added on the east coast of Florida. On the west coast, the reference to Ponce de Leon is now "G[olfo] de Juan Ponce", with the Rio de Perlas added. On the Gulf Coast, a new harbor has been added, the Puerto de San Juan de Natividad.
Unlike the Wytfliet, Metellus deletes the "Roques" south of Florida (Martyrs on the Ortelius-Chaves).
Jumelo (Jumeto) Island is shown. This is the island, which has had many names over the years, including Jumento Cays and Ragged Islands, is the place where Martin Alonso Pinzon lost 2 of his ships on the rocks in 1500.
Rarity
Metellus' map is very rare on the market. This is the first example we have ever offered for sale.
Johannes Matalius Metellus Biography
Johannes Matalius Metellus, also known as Jean Matal or Johannes Metellus Sequanas, was born in Poligny, Burgundy, France in ca. 1517. A humanist scholar, he was a polymath devoted to cartography, geography, law, paleography, and antiquarianism. Late in life he published a series of atlases; all his maps and atlases are rare and highly sought-after.
Matal was educated at Dole, Freiburg, and several Italian institutions. At Bologna, he met Antonio Agustín, a Spanish legal scholar, who recruited Matal to be his secretary. Together, the men researched ecclesiastical law, with an especial emphasis on Roman legal manuscripts, with trips to Venice, Florence, and elsewhere in Italy to study codices. In 1555, the two traveled to England to meet with Queen Mary on a mission for the Church.
After leaving his employment with Agustín, Matal traveled in the Low Countries and eventually settled in Cologne. There, he mixed with other savants, including especially Georg Cassander and Pedro Ximénez. It was in Cologne that Matal began his serious interest in mapmaking. He contributed to Braun and Hogenberg's Civitae Orbis Terrarum; Georg Braun described him in glowing terms, "vir omni scientiarum genere praestans"—"a man outstanding in every form of knowledge."
Late in life, Matal began preparing a set of maps of the entire world. In 1594, he published an atlas of France, Austria, and Switzerland (39 maps), in 1595 an atlas of Spain (10 maps), and, posthumously, an atlas of Italy (37 maps), and one of Germany and the Netherlands (55 maps). Many of these maps were combined and augmented into atlases of Europe, Asia, Africa, the Americas, and the world's islands. In 1602, a compendium work showcased all of these previous works called Speculum Orbis Terrae; this atlas was well received by contemporaries like Walter Raleigh and is very rare today. Many of these maps and atlases were released after his death in 1598, they were finished by his friend and fellow mapmaker Conrad Loew (Matthias Quad).