The item illustrated and described below is sold, but we have another example in stock. To view the example which is currently being offered for sale, click the "View Details" button below.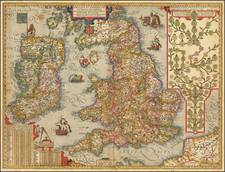 1606 Abraham Ortelius / Johannes Baptista Vrients
$6,800.00
Description
Rare Variant With Paste Down Text over the James I Dedication
Old color example of Vrients map of the British Isles, which appeared first appeared in the 1606 edition of Ortelius' Theatrum Orbis Terrarum, the first modern atlas of the World
Vrients map is one of the most elegantly engraved and distinctively designed maps of the British Isles to appear in a commercial atlas. In 1601 Antwerp publisher Jan Baptist Vrients, after the great cartographer's death, took over publication of the Theatrum ..., gradually adding new maps, though not necessarily replacing existing plates.
Among the new maps was this of England, Wales and Ireland, with a genealogical table for the English Royal Family, at top right, and engraving, "... of the highest standard with artistically placed sea monsters, galleons, a mermaid, Neptune, and other decorative features" (Shirley). Here in its second state, with re-engraved panel removing the dedication to James I.
As noted in Van Den Broecke, there are 3 states of the map:
17.1a: Dedication to James 1
17.1b A slip is pasted over the dedication to James I, thus removing it. The text on the slip reads "Unum qua ad Dominum Britannia tota redisti, Una tibi ô redeat sic quoque prisca fides".
17.2 Dedication to James I removed and the circle below now reads "1603 Iacobus Magnæ Britanniæ Rex".
Whether the removal of James' dedication and the change in his circle in the tree occurred exactly at the same time is unclear. This information is based on Shirley and a thorough analysis by Arthur L. Kelly, in his essay Maps of the British Isles, England and Wales, and Ireland:
Vrients commissioned two new maps depicting countries in the British Isles for the 1606 English text edition of the Theatrum. The first shows England, Wales and Ireland as well as the genealogy of the English Monarchy from William the Conqueror in 1066 through the date of publication . . .

. . . Shirley notes that the model for the map . . . was clearly the anonymous but similar 1594 map with a genealogical chart and dedication to Queen Elizabeth (Shirley 177) which in turn was based on Jodocus Hondius Senior's 1592 map, also with a genealogical table and similar dedication (Shirley 164). . . .

State 1 . . . is distinguished from later states by the dedication to James I as King of Great Britain, France and Ireland . . . The next edition . . . appeared in 1608 with Italian text . . . contained a dedication to Pope Clement VIII . . . neither the Catholic Church nor Italy, a Catholic Country, recognized James I, a Protestant, as King of France . . . then ruled by Henry IV, a loyal Catholic. Therefore, . . . [the dedication] to James I as King of Great Britain, France and Ireland created a marketing problem for Vrients. . . . Vrients solved the problem by having small pieces of paper printed, each containing new language appropriate for the Catholic Italian market, and then having these slips pasted over the panels which contained the offending dedication to James I. . .

By the time of the 1609 Latin text edition . . . Vrients had apparently had time to . . . remove all references to James as King of either France or Ireland, thus creating [the final state of the map.]
The text added in the panels reads:
Unum quae ad Dominum Brittania tota redisti, Una tibi o, redat sic quoque prisca Fides.

Translation: You, Britain, who have come together wholly under one Ruler, May you also return to one ancient faith.
Condition Description
Minor soiling and repair at lower centerfold.
Reference
R.W. Shirley (1991) Early Printed Maps of the British Isles 1477-1650, Antique Atlas Publications, p. 112-113. A. Kelly "Maps of the British Isles, England and Wales, and Ireland", p. 221-238, in Van den Broecke, van der Krogt & Meurer (eds.) "Abraham Ortelius and the First Atlas".
Abraham Ortelius Biography
Abraham Ortelius is perhaps the best known and most frequently collected of all sixteenth-century mapmakers. Ortelius started his career as a map engraver. In 1547 he entered the Antwerp guild of St Luke as afsetter van Karten. His early career was as a business man, and most of his journeys before 1560 were for commercial purposes. In 1560, while traveling with Gerard Mercator to Trier, Lorraine, and Poitiers, he seems to have been attracted, largely by Mercator's influence, towards a career as a scientific geographer. From that point forward, he devoted himself to the compilation his Theatrum Orbis Terrarum (Theatre of the World), which would become the first modern atlas.
In 1564 he completed his "mappemonde", an eight-sheet map of the world. The only extant copy of this great map is in the library of the University of Basle. Ortelius also published a map of Egypt in 1565, a plan of Brittenburg Castle on the coast of the Netherlands, and a map of Asia, prior to 1570.
On May 20, 1570, Ortelius' Theatrum Orbis Terrarum first appeared in an edition of 53 maps. By the time of his death in 1598, a total of 25 editions were published including editions in Latin, Italian, German, French, and Dutch. Later editions would also be issued in Spanish and English by Ortelius' successors, Vrients and Plantin, the former adding a number of maps to the atlas, the final edition of which was issued in 1612. Most of the maps in Ortelius Theatrum were drawn from the works of a number of other mapmakers from around the world; a list of 87 authors is given by Ortelius himself
In 1573, Ortelius published seventeen supplementary maps under the title of Additamentum Theatri Orbis Terrarum. In 1575 he was appointed geographer to the king of Spain, Philip II, on the recommendation of Arias Montanus, who vouched for his orthodoxy (his family, as early as 1535, had fallen under suspicion of Protestantism). In 1578 he laid the basis of a critical treatment of ancient geography with his Synonymia geographica (issued by the Plantin press at Antwerp and republished as Thesaurus geographicus in 1596). In 1584 he issued his Nomenclator Ptolemaicus, a Parergon (a series of maps illustrating ancient history, sacred and secular.) Late in life, he also aided Welser in his edition of the Peutinger Table in 1598.