The item illustrated and described below is sold, but we have another example in stock. To view the example which is currently being offered for sale, click the "View Details" button below.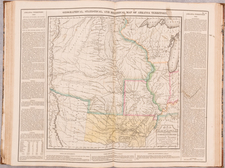 1827 Henry Charles Carey & Isaac Lea
$8,950.00
Description
46 hand-colored double-page engraved maps; 1 engraved view showing comparative heights of mountains; 5 letterpress tables (4 of which hand-colored); letterpress title (copyright notice on verso), letterpress advertisement, letterpress contents page, and 18 pages of text. [Complete.]
Folio, half calf over original marbled boards, spine in seven compartments, divided with gilt-tooled raised bands, gilt eagle-and-shield tool in third, fourth, and sixth, black morocco lettering pieces in second and fifth. (Expertly rebacked to style.)
An indispensable American atlas, representing the beginning of the hand-colored commercial atlas business in the United States. Includes Stephen H. Long's seminal map of the American West.
Unusually clean and bright throughout. A truly handsome example of the second edition (first published in 1822) of Carey and Lea's atlas of the Americas. While earlier hand-colored atlases had been issued in the United States (for instance by Fielding Lucas Jr., who also worked as an engraver on the present volume), Carey and Lea's was by far the most popular and important of the first wave. The book introduced a format that would be widely copied thereafter, in the atlases of Buchon in France, Weiland in Germany, and Garcia Cubas, in Mexico.
The most important cartographic contribution of the Carey and Lea atlas is the inclusion of the Long Map of the American Plains. Wheat (II, page 81) says of it:
Carey and Lea's Atlas of 1822 carried a 'North America' on which, along with Pike's vagaries, is displayed Long's discovery of the true course of the Canadian, while Missouri Territory is carried west of the Rockies. The most interesting map in this Atlas, however, is headed 'Geographical, Statistical and Historical Map of Arkansas Territory,' which is in reality Long's map, covering the Missouri Basin north to Mandan villages and west to the Rockies. 'Highest Peak,' James Peak and Spanish Peaks appear, as on [Stephen H.] Long's manuscript map, and his expedition's routes are set forth. Just south of the Republican Fork appears the significant legend, 'The Great Desert is frequented by roving bands of Indians who have no fixed places of residence but road from place to place in quest of game.' In fact, in large part this map is Long's map, and is so stated in its title.
The 1823 edition updates the maps of Louisiana, North Carolina, and Maine.
Images:
Provenance:
The book comes with full documentation of its purchase from Weimar-era German book dealer, with invoice and export form (dated December 1930) from Ludwig Rosenthal's Antiquariat, pasted down on front marbled end paper. Ludwig Rosenthal's Antiquariat was founded in 1859 in Germany and is still in business in the Netherlands.
Ludwig Rosenthal's Antiquariat, Munich (invoice and export form);
Mano Swartz, Ashland, Maryland (bookplate).
Condition Description
Small (i.e., half-inch) expertly-repaired marginal tears to three leaves towards the back of the book. Expertly rebacked to style. Otherwise, near fine throughout.
Reference
Phillips Atlases 1373a; Sabin 15055; Wheat, Mapping the Transmississippi West 348, 352.

Henry Charles Carey Biography
Henry Charles Carey (1793-1879) was an American geography publisher and businessman. He was the son of Mathew Carey and carried on the family publishing company in partnership with his brother-in-law, Isaac Lea. Henry worked in his father's business from a young age. At twelve, he managed a store selling his father's publications. At fifteen, he was the firm's financial manager. In 1817, he became a junior partner, which changed the company's name to Carey & Son.
In 1822, Mathew Carey brought in a new junior partner, Isaac Lea, who had married Henry's sister, Frances Anne. In the same year, Mathew Carey left the business, with Henry buying out his father's share. His younger brother briefly joined the business, but left by 1829, when the firm was named Carey & Lea. William A. Blanchard joined the firm in 1833, causing another name change to Carey, Lea & Blanchard. Henry retired in 1835, leaving the firm as Lea & Blanchard.
Henry had outside interests, including political economy. He published Principles of Political Economy in 1837. He also wrote Past, Present, and Future (1848), Principles of Social Science (1858-1860), and The Unity of Law (1872). In the 1850s, he was very active in organizing the nascent Republican Party. He died in 1879.
Isaac Lea Biography
Isaac Lea (1792-1886) was an American publisher and geologist. Raised a Quaker in Delaware, he turned away from pacifist teachings and joined the militia in the War of 1812. After marrying Frances Anne, the daughter of publishing magnate Mathew Carey, Lea became a junior partner of Carey & Son in 1822. Mathew Carey left the firm in the same year and Isaac Lea worked primarily with his brother-in-law, Henry Charles Carey.
The pair conducted business as Carey & Lea, during which time they published A Complete Historical, Chronological and Geographical Atlas from 1822 to 1827. This work included roughly twenty maps engraved by Fielding Lucas Jr., as well as an American edition of Starling's Cabinet Atlas. However, the firm increasingly turned away from cartographic publications.
By 1829, after the brief participation of Edward Carey, Henry's younger brother, the company became known as Carey & Lea. William A. Blanchard joined the firm in 1833, causing another name change to Carey, Lea & Blanchard. Henry retired in 1838, leaving the firm as Lea & Blanchard.
Isaac Lea was not just a publisher, but an avid researcher with aptitude for geology. He was a member of the American Academy of Natural Sciences and the American Philosophical Society. He retired from publishing in 1851 and turned increasingly to geological research, results of which he published until his death in 1886.